Quote of the Day – September 7, 2017: Romance history of a safari – Daniela Zeca
They were walking along the severing trades and Darrielle tried to walk behind it. Zaouf was as fast as a bee. He stopped and bought eggs and a goat cheese bellows, then I know he was going to stop by Jabir, the wool painter. Raouf had told him how rich and the old Jew, who had lived in Djerba, but had come to the bay for a mistress. He, who had a life gathered the bag, had sold everything he had on the island, moving his business, for some green eyes and a skin like foam.
The woman, younger by thirty years, had taken care of the color boilers for a while and had learned Arabic. But the freshly boiling blood climbed into his cheeks whenever a Muslim man came into the dye who kept himself straight and did not have thinned hair in his temples.
Jabir was squeezing her out of his office and shaking her fists. He had no choice. He bought a smile with earrings and bracelets, he, who had never given a penny to a beggar.
One day, she put her ornaments in a cloth and looted the safe of all banknotes. No one'd seen her leave. He cooked the food for Jabir, leaving them on the table, in a glass, some red poppies, trembling, for it was through May.
The fields seemed spumished with flowers and probably ran through the lan to lose track.
Since then, jabir had passed, because he had not died lying, he had vowed revenge. His business was running again, except he was alone with two calfes. He'd been a hoarder again. He'd go to the bank at dawn and sit at the door to be the first. He didn't like people to find out how he kept his savings, and sometimes he also counted his bread and soap dinars. He started to stink and he was skinny, but he dreamed of paying a detective to bring her the ingie.
Zaouf moves the door with the bell and enters the paint. The young calf leans towards Darrielle, tasting her with her eyes; he would have sat well in red or the Nile green of Africa, but dressed as carelessly, like all Europeanwomen. Suddenly, in his mind, a drit in blue, hanging holes that would bend his neck and arms so beautiful.
He was thinking carefully of the old lady. He spoke In Arabic and, because he didn't get it, Darrielle was having fun with the tassels of the drape. He was bored.
The apprentice was lost. He swallowed in the 19th century and thought he was fainting. He went back and brought the bales ready painted, but realized they were too heavy for them. He will accompany them home, carrying their wool in a cart.
He'll see her walk, unmoving her hips, and he'll catch the smell.
She had never fallen in love with a girl in jeans, whose hair would not spill on her shoulders like a calling. What had gotten him? Besides, old Jabir wouldn't let him miss him.
"What do I say, young man, help us to the car?" she spoke to her in French. "I would, of course, pay your goodwill, the nanny has no much power for such charlatans…"
Her voice seemed to wake him up. He had the tone of The Amazon women, whom he'd seen in the bay before. He knew about them that they were no longer happy, and that is why they are always ready to devour their loves. He was a Muslim, afraid of the laws of Allah. She was foreign and sweet, but misleading and poisoned as the healing of desert healers.
He had then seen her in the trailer's cabin, spreading her knees, like a soldier. He watched her stunned with the nanny climbing her, placing her on the right, like a doll.
And yet, he was bewitched by the way she made the moves, leaving them unfinished, by the courage to look right into the eye of the man who spoke to her, the curves drawn by her body.
It looked sleepwalking, a feather of scuturate lysis from the flight. When he's starting, it's like ripping his heart out.
Darrielle and Zaouf were on their way back. The old lady breathes a sigh of relief when she glides the roof of the tile and the gate painted by Rhyme.
Two children played in the street with the chicks of sparrow smothered from a nest. Darrielle honks their horns and just then someone calls them by calling them into the house: "Amelie, Gustave!".
And the boy, and the girl were Arabs, but they spoke French. Don't seem impressed that a voice calls them. Darrielle stopped to see them better. They were both like coffee beans. Only the child's lighter hair spoke of a European mother. He didn't remember him on l'Esplanade.
Rue de l'Esplanade was a cornice for the rich. He had a maximum of ten villas. It's clogged, rounding at one end, like a horseshoe. Beyond the courtyards was the sea. He'd get into their nostrils when they were sleeping. In the storm, the Mediterranean filled the terraces, and the maids cursed it.
All he knew was the children in the bungalows. They worked as a young man, sneaking through the walls. They went to schools near mosques in the morning, where october was cold.
The voice inside is crying again. He called her a young voice with a Canadian accent. Darrielle imagines it. He wasn't wrong. He appeared at the gate, just as he had drawn it in his head: petite and freckled, with red hair caught at the back.
But what you're striking was not her image of a sports mother, but the paper garlands and tin foil hanging at the gates, along with artificial fir and pine branches.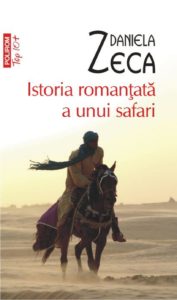 ---
The Book Of Romanized History of a Safari can be purchased from: