Quote of the Day – 1 August 2017: Thebes in War – Naghib Mahfuz
The governor looked him straight in the face for a while, thoughtful, looking for how he might approach his master through this gift.
 – At the end of this month, the pharaoh finally told him, the pharaoh was celebrating the victory day, as usual for the last ten years, and I could give him a pleasant surprise with you and your dwarves. This would be a good opportunity to give him the gift you say you prepared for him… and which I have no doubt that it matches its high rank. Tell me your name and where you live.
 – My name is Isfinis, my lord, and I live where my convoy of ships has docked, on the banks of the fishermen's neighborhood in southern Tebei.
 – A messenger of mine will come to you soon.
The young man bowed with great respect and left the room, followed by his slaves. The princess was studying his face and eavesdropping as he spoke to the governor about his intentions and hopes, and when he came out he took his eyes, delighted with the signs of nobility and beauty on his face and stature. He regretted that his destiny in this world was the trade and carrying of pygmies. Aah! How much she would have liked to encounter such a stature in a man of her kind, for most of them were stuffed and scunzi. The chance had come across those qualities to an Egyptian with dark skin, who happened to get endearing himself with the pigma trade. Sensing the face of this young man began to scour her deep, angry lysed the back of the governor and others in his family present there and left the room.
Isfinis and his slaves had returned to the garden, following his guide. The breeze in Thebes reassures his heated kneading and deep breaths, considering the outcome of this visit to be a great success. At the same time, her thoughts flown to Princess Amenridis, returning to her mind her bright face, her golden hair, her carmine red lips and her emerald heart hanging over her round breasts. Lord! Under no circumstances should she ask her for her price, so that she will forever remain the heart of both of them. "She was raised in luxury and in love and imagines without just and perhaps the whole world must obey her by the way she moves a finger. She is bold and happy, but her smile is faked and betrays the harshness; laughs with the governor and at the same time mocks a foreign fool, although he has not turned eighteen. If I see a fighting horse on the back of a fighting horse freeing arrows from the bow tomorrow, I'm not going to be surprised at all…" isfinis said in his mind.
He then told herself that he would rather stop thinking about her, and to follow the advice she had given herself, he remembered the success he had reworn and in his mind began to praise Governor Khanzar: he is a strong, great and courageous governor, has a good heart but it's probably also very stupid. He was tempted by gold to most of his kind, wrapped numerous gifts – gold jewelry, pearls, emeralds, rubies, animals and even poor Zolo – without saying a single word of thanks. But it is precisely this boundless greed that opened the doors of Egypt and the doors of the governor's palace, and it will also help him reach the pharaoh's palace soon. Ahmose was walking close to him and at one point you hear him whispering: "Sharef!". He had the impression that he was addressed to him, but when he turned to him, he surprised him by looking at a snubling old man who walked around dragging his legs, wearing a basket of flowers. The old man hears someone say his name and looks weakly around him, trying to find out who called him, but Ahmose avoids waking up face to face with him and turned his back on him. Isfinis wonders and gives him a questioning look, but the young man leaves his eyes in the ground and says no words.
Arriving at the ship, they climbed onto the deck and found Latu looking forward to them, as he could see on his pale face.
 – By the goodwill of the god Ammon, I have succeeded, open ly open Isfinis the surprising word.
The anchor was raised and the oars started to gently hit the face of the water. The young man approached Latu and began telling him how the meeting had happened, but their discussion was interrupted by someone's crying. They looked around and discovered Ahmose leaned against the ship's guardrail, crying like a child. They were scared seeing him in that state. Isfinis remembered his strange behavior in the garden, approached him followed by Latu and put his hand on his shoulder, gently asking him:
 – What's the matter, Ahmose? Why are you crying?
The young man did not answer him or give any signs that he had heard his words, but he was overcome with tears, lost in overwhelming sadness, not knowing anything. The two men approached him depressed and led him into the cabin, placing him among them. Isfinis brought him water and asked him again:
 – Why are you crying, Ahmose? Do you know that sleaked old man you called out by calling him Sharef?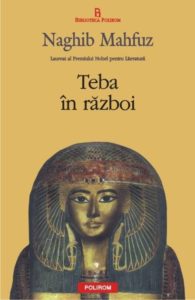 ---
The Book of Thebes in War can be purchased from: