Quote of the Day – 1 September 2017: Komayo. The Story of a Geisha – Nagai Kafu
Yoshioka continued to look at the woman's face, really surprised she looked unchanged. He reckoned that if seven years had passed, he should have been about twenty-five or twenty-six years old now, because by the time they were seen he was about seventeen, eighteen years old. However, the woman in front of him was no different from the girl who used to cook to become from a simple apprentice a real geisha. She was the type of classic Japanese beauty, and her face, with the shredded cheeks on which the deep smile of ever was reached and the mouth that, when she smiled, let the canine on the right, had kept her innocence as a child.
– Could we see each other in peace and talk?
– How are you known now? Still with the old name?
– No, they call me Komayo now.
– Oh, yes? Then I'll ask your company soon, Komayo!
– I'm sorry, i'm sorry. I'm always at your disposal.
From the stage, there were the wise rhythms announcing the start of the show. Komayo hastily headed to her seat, down the corridor, to the right. Yoshioka, as in a hurry, gave to go through the opposite side, but then, as if he remembered something, suddenly stopped and came back to look behind her. But Komayo was gone; all they could see was the placeholders running here and there and the boutique salesmen. Yoshioka sat on one of the benches in the lobby and, as he lit a cigar, in front of his eyes began to brush his memories of seven, eight years ago. He had completed school at the age of twenty-six, then studied for a couple of years in the West, and then he had committed to the company where he still worked today. He said, by asking himself, that in those six, seven years that had passed he had really worked hard for the company. He had bought shares and made a nice fortune. He had also secured an enviable position in the company's internal hierarchy. In addition, he had had fun and had far-tped, so that he had also wondered how he had not destroyed his health. He bragged in front of everyone that he was very busy, and he did. That's why he had never had the respite and the mood to think for itself not once about previous years. But that evening, meeting the woman who had been, during his student days, the first geisha of his life, he recalled the distant past.
He was then an inexperienced young man that the geisha world fascinated, and when one of them spoke to him a word he could no longer be happy. Today, even if he wanted to, he could not relive feelings of inocency and purity in his youth. Listening to the sounds of shamisen coming from the stage, he recalled his first visit to Shimbashi, and smiled amusedly. And today he felt good in the company of geisha, but when he realized that these pleasures had become customary and that all the encounters were set up in the smallest detail and calculated in cold blood, he felt unwittingly disgusted by himself. "I gave up my ambition," he said, and for the first time, it occurred to him that he shouldn't have wasted his life planning everything in detail. Actually, that's exactly what happened. It had not been even ten years since he entered the company and had now become managing director, and the president and the board of directors considered him a valuable acquisition. By contrast, colleagues and subordinates didn't have much of a heart.
Yoshioka had been maintaining a geisha named Rikiji, the owner of a place called Minatoya, in Shimbashi for about three years. But as he did not leave blinded like other patrons, he knew that Rikiji was not a beauty; however, she particularly appreciated her skill in her art. Wherever he went, everyone showed him respect for an experienced geisha. And Yoshioka had made the calculation that, as a businessman who has to accompany his clients and fun, it was good to have at any time the services of a professional geisha. And in order to reduce the costs of such an arrangement, he had chosen Rikiji, convincing her that he was in love with her.
She had another mistress, the owner of murasaki house in Hama-cho, a local who served the whole neighborhood. Yoshioka had met her when she was a maid at a restaurant in Daichi. Tired of getting mixed up with the geisha and getting in trouble one night, drunk, ended up in bed with her. He immediately regretted it, because he couldn't bear the idea that the geisha he met at parties would find out that he had cured a maid. But the woman had planned everything in the first place. She asked her in exchange for her silence to secretly open that place, Murasaki. Fate made Murasaki come very popular; Every night, the parties were held chain. Yoshioka reckoned not to stay away, especially since he had already invested heavily in that place, and began to stop by for a drink, secretly resuming the love affair with the landlady, a solid white-skind woman, who had just turned thirty. for years. She was more than an amatory, but compared to the real geisha, she seemed unrefined and uncharmed. Her provocative outfit, specific to all the maids in pleasure districts, stirred up her senses, not affection. Although he regretted each meeting, he continued to return to her over and over again, without being able to give up, their relationship seemed to be predestined.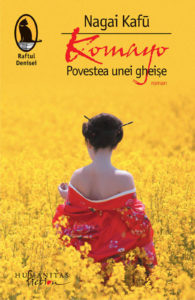 ---
The Komayo Book. The story of a geisha can be purchased from: