Quote of the Day – 10 September 2017: Water Shape – Andrea Camilleri
Piro and Saro were heading to the working sector, pushing the trolleys agale. On foot, walking as slowly as they did, to the "left" they had about half an hour of a good time of road. The first quarter of a watch advance on the well, sweated, with their shirts sticking to their bodies, despite the morning time. Eventually, Saro decided to break his silence.
 – This Pecorilla is an with tits! Proclaims.
 -, that's it! strengthen Pino.
Pecorilla was, of course, the team leader, to make distributions by sector, and which – that was clear – he devoured a deeply contempt toward anyone with a little more book than him; in the weather he had only managed to get his middle school diploma at the age of four and just because his Excellency Cusumano was hunting his tail? And he made it so that the hardest and dirty job would always fall on the backs of the three high school men to serve them to the team. Moreover, that morning, Ciccu Loreto had been assigned the sector of the pier where the ferry was leaving for the island of Lampedusa. And that meant that Ciccu, with his high school of accountants at the base, was only to account for as much as he wanted tons of debris left behind by gourmet tourists – different between them as a language, nothing to say, but united in their own respect with their total contempt for personal cleanliness and public – which on Saturday and Sunday was hanging out at the pier, waiting for the ferry. Just as, from their side, Pino and Saro would find a disaster at the "farm" after the military had had two days of leave.
Arriving at the crossroads of Lincoln Street with the Kennedy stradela, (nothing unusual, because in Vigata there was still eisenhower square and Roosevelt Alley), Saro stopped.
 – I'll run to the bottom of it, see how picciliddro is doing, he said. Wait for me, it's a minute's work.
And without waiting for Pino's response, they slipped through the door of one of those dwarf skyscrapers, up to twelve floors, rise sever with the chemical plant and quickly downed to some simple ruins – unless they had been completely abandoned, like the factory. To those who proved uninspired enough to reach Vigata coming from the sea, urbewas portting themselves as a parody of a small-scale Manhattan, and from here, perhaps, the toponimia of the place.
Nene, picciliddro, he was watching, so hard ly she's going to sleep two to three hours a night. The rest of the time he was sitting with the yains, without anyone hearing him cry once. And, forgively, to be, where had a nicareddro mentioned that would not shed a tear at least? He was poor, he was chewing on the inside a heavy meteahna that no doctor in Vigata had ever figured out and knew how to doftoric him: he should have walked with him in foreign countries, just like where the money came from? Just what he looked into his father's eyes once, that Nene is darkening his face, on his forehead, a deep knife. He was not yet aware of speaking, but that he could have expressed more clearly the reproach to the man in front of him, who had brought him to that state.
 – You seem to know that it's a little better today, the fever seems like my fever's gone down," Tana, his wife, called him more so he doesn't know it bothered over the day.
The sky had opened before, and now the scorores sun may melt the stones. Saro had taken to desert the trolley about ten times at the landfill – on private initiative – where the factory was once out and felt his back stuck. Walking through the path that, in addition to the protective wall, led straight to the road, blinded him with a violent twinkle coming from somewhere, from the grass. He leans over to take a closer look. There was a heart-shaped, huge, brilliance-shaped locket and a big diamond in the middle. The chain that was supposed to hold the locket caught at the owner's neck was still there: solid gold and broken in one place. Saro's right shook short, seized the necklace and slipped it into the drum drum. His right hand: Saro appeared to act on her own, on her own, without receiving any orders from his brain, and he was still confused after such a surprise. Saro rises and, with sweat flowing waves-waves on his forehead, looks around, but there was no soul mark around.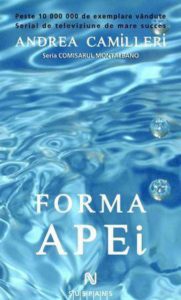 ---
The Water Form Book can be purchased from: