Quote of the Day – 11 August 2017: Last Night At Chateau Marmont – Lauren Weisberger
Her mother had always been more interested in clothes than she was, but she didn't spend excessively either.
 – That's right, i'm not going There are many things you won't be a part of in the next few months, not only because he's going to be gone, but also because you're working, you say. He probably won't have much control over your own life, and neither will you. It's going to be really rough. But I know you both. Rook, I know you'll get over it, and once everything stabilizes, you'll be fine. And please forgive me for interfering with your marriage – I'm not exactly an expert, as we all know – but until these crazy moments pass, you can ease the situation by getting involved in any way. Help him find some marketing strategies. Wake up in the middle of the night when he calls, regardless of how tired you are – he'll sound more if he knows you want to hear from him. Buy her new, modern clothes when you think he needs them, but he doesn't know where to start. What difference does the price make, it! If his albums sell half as much as the world predicts, these little shopping sits no longer as important.
 – I think he said something about how much he's going to earn from this tournament. I'm not very good at math, but I guess he was talking six-figure sums.
Her mother was smiling.
 – You deserve this, you know that, right? You've both worked very hard to get here. You'll go through a tough time of spending, buy all sorts of luxury things you never knew existed and you'll enjoy every minute. I, for example, am officially volunteering to accompany you to all shopping. There's a lot of stuff you need to do, but you're ready for it. I know you are.
When, eventually, they got out of the store, an hour and a half later, it took both to carry all the clothes home. They had chosen four pairs of blue jeans and a pair of black jeans together, plus a pair of denim-tight jeans, which Mrs. Greene had convinced Julian really needed. They had rummaged through piles of white t-shirts, comparing Egyptian cotton to jerseys, before choosing a dozen varied patterns and materials. They had broken up on the first floor and her mother had gone to buy Julian some kiehl men's products, vowing that she had never met a man who had never adored the shaving foam and the aftershave. Brooke had her doubts as to whether Julian would use anything but the usual Gilette foam, bought for two dollars from any store, but nevertheless appreciates her mother's enthusiasm. He made his way through the accessory department, where he had carefully chosen five crocheted caps, all of different colors and a black striped one, rubbing it on each side to ensure that it is not too hot or that it does not cause itching.
The overall total of expenses had reached $2,260, the largest amount he had ever spent in his entire life. His breath was cut off when he was thinking of writing a check for that huge bill, but he was forceto focus on what was very important – the fact that he was about to start an important career and she owed him to sustain him 100 percent. In addition, she was satisfied that she remained true to his personal appearance, that she had respected her ageless jeans, the white shirt and the cap, and that she had not tried to impose a new image on her.  It was one of the weirdest afternoons she'd had in the last few hours. Even though the clothes weren't for her, that didn't mean that their choice and purchase had not been as pleasant.
When Julian called the next Saturday to tell her she was in the cab on her way home from the airport, she was extraordinarily excited. At first, he took all the new purchases in the living room, filling the couch with jeans and chairs of t-shirts and hats hanging from lamps and shelves, as if they were ornaments in a tree, but just moments before he arrived, he changed his mind and collected everything Sit down, sit down. Pack the clothes again and put them in their bags, which they then hidden behind the dosthing closet, imagining how funny it would be to take each piece individually, one by one. When you hear the door open and when Walter started barking, she would come out of the bedroom and jump into Julian's arms.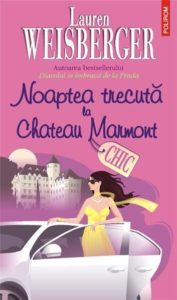 ---
Last Night's Book At Chateau Marmont can be purchased from: