Quote of the Day – 15 August 2017: Defecţi – Cecelia Ahern
Never trust a man who counts, uninvited, at the head of the table in another man's house.
Those are not my words. These are the words of my grandfather, Cornelius, who, after telling them, moved as far away from this table and will not be welcomed to her anytime soon. And the problem is not so much the fact that he said those words, but rather to whom he addressed them: Judge Crevan, one of the most powerful people in the country who, despite my grandfather's comment last year, sits at the head of our table again on the occasion annual Meeting on Earth Day.
My father returns from the kitchen with a new bottle of red wine and finds his place occupied. I see he's disturbed by it, but because it's about Judge Crevan, my dad stops, spins the corkscrew in his hand a little bit, thinking about how to proceed, then bypasses the table and sits next to his mother at the other end, where the judge should have sat Crevan. I realize my mom's nervous. I can tell because it looks better than ever. She doesn't have any hair in place in her perfect hairstyle, her blonde strands are twisted into a sophisticated bun that only she can make, about to dislocate her shoulders to catch her hair like this. Her skin looks like porcelain, as if it's glowing, as if the mother were the purest shape of anything in the world. Her make-up is immaculate, her cornflower-colored lace dress fits perfectly with her blue eyes, and her arms are perfectly toned.
As a matter of fact, almost in everyone's eyes, my mother looks so good every day, being a famous model. Although she had three births, her body looks as good as ever, although I suspect – I know – that, like most, she has received help in this regard. You can tell that mom's having a bad day or week only when she gets home and has fuller cheeks and lips, smoother foreheads and her eyes are less tired. He really likes to take care of her. It's very demanding to the way people look. He judges them by appearance, quickly labels them, at a glance. She's disturbed when something isn't perfect; a crooked tooth, a double chin, too big nose, all of which make it not to trust people. She's not the only one. Most of them are just like her. My mother compares the attitude of those who don't care about their appearance with trying to sell a car without washing it before; should be bright. So are people. The fact that they're laising to take care of what they look like demonstrates who they really are. I am also perfectionist, but not in terms of appearance, but only language and behavior, which really annoys my sister Juniper, who is the most common person I know. Although it is particularly common, at least that's it.
I'm posting my family's behavior because I don't feel a gram of their tension. Actually, I'm really amused. I know Judge Crevan as Bosco, the father of my boyfriend, Art. I'm in his house every day, I've been on vacations with him, on private family meetings and I know him better than my parents or many others. I saw Bosco this morning, with his hair buzzing and teethpaste marks on his face. I saw him in the middle of the night, walking sleepy in his boxers and socks – always wearing socks in his bed – heading towards the bathroom or kitchen for a glass of water. I saw him drunk and passed out on the couch with his mouth open and with his hand in his pants. I put popcorn in his shirt and put his fingers in warm water while he was sleeping to pee on him. I saw him dancing drunk on the floor and playing badkaraoke badly. I heard him throw up after a white night. I heard him snoring. I smelled his blisters and heard him cry. I can't be afraid of someone whose human side I see and know.
However, my family and the rest of the country consider him a terrifying character that they respect and fear. I think he's like one of those jurors on TV talent shows, an exaggerated cartoon character who enjoys when huduit. I like to eat it, much to Art's delight. He rolls down laughing when I parade up and down like Bosco when he's a judge, squeaming me with a makeshift robe tied around my neck, sneering and pointing my finger here and there. Bosco likes to point fingers whenever he's in the spotlight. I am convinced that the position of scary judge, although important to his job, is just a role; in fact, that's not how he really is. Besides, he's doing the cannonball in the pool very well.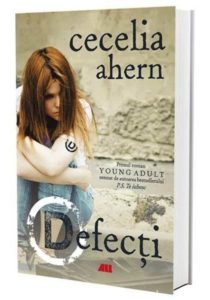 ---
The Faultbook can be purchased from: