Quote of the Day – September 15, 2017: Captain at 15 – Jules Verne
Fishing wasn't very happy for the pilgrim son. In early January, which is in the middle of the Australian summer, although it was not yet time for the return of whale rs, Captain Hull was forced to leave the waters. The crew – mixing with people with all hand – "looking for them, as they said, and then thought it would be better to break up with him.
Pilgrim then set off towards the north towards the west towards New Zealand on January 15th. Arriving at Waitemata, in auckland port, located deep in The Bay of Shuraki, on the east coast of the island from the south, and disembarks fishermen who had only been employed for one season. The crew was not satisfied, however. Never had fishing been worse. Captain Hull was bitterly returning to the tried fisherman who, for the first time, had an empty bag. His own love, tormented beyond measure, was at stake this time and would not forgive the Punks whose disobedience had made the good work of an entire campaign.
They were trying to recruit a new crew to Auckland. All the sailors they could have used had boarded other vessels. He must therefore give up hope to complete the cargo on Pilgrim, and Captain Hull was preparing to leave Auckland forever, when a new commandment, which he could not cross, was stopping him instantly.
Mrs Weldon, wife of the owner of pilgrim, her five-year-old jack son, and a relative of theirs, named cousin Benedict, were just then in Auckland. James W. Weldon, whom his skills sometimes sought to spend more time in New Zealand, had brought the few to the others here, and hopefully took them back to San Francisco soon.
But as the whole family prepares to leave, little Jack got heavily sick and his father, called to other urgent businesses, had to leave Auckland, leaving his wife, child and cousin Benedict in the top guard.
It had been three months to three endless months of separation, which had been a real ordeal for Mrs Weldon. But the child was getting better in a while and the heel was still getting ready to leave, when the news was brought to him that Pilgrim was in the harbor. At the time, to return to San Francisco, Ms Weldon had to search Australia for a ship of the transoceanic society "Golden Age", which raced between Melbourne and the Isthmus of Panama, through papeiti.
Then, once in Panama, she had to wait for the departure of an American vessel, which establishes the regular connection between isthra and California. Here, however, they encounter delays and transhipments, always unpleasant for a woman and a child. At the same moment Pilgrim was in Auckland. She no longer smacked and asked Captain Hull to take her on his boat and take her son, cousin Benedict and Nan, an old black woman, to San Francisco and to take her childhood. Three thousand marine leagues on a sailboat! But Captain Hull's ship was so well maintained and the weather was still so beautiful on the two sides of the Equator! Captain Hull accepts and only makes his room clean available to the rider. She wanted, on the road that lasted from forty to fifty days, Mrs Weldon would feel as good as possible aboard the ship.
For Ms Weldon it was a great deal of easing the journey in such conditions on the waters. The only drawback was the trouble, because Pilgrim had to unload his wares at Valparaiso in Chile. After that, all they could do was climb the American coast under the wind chase on the estates, which made the journey extremely pleasant.
Mrs Weldon was, by the same time, a brave woman, whom the sea did not terrify at all. Thirty-year-old then, healy and shewas in good health, having the habit of long journeys, because she had accompanied her man in many wanderings off the waters, was not afraid when it came to crossing the ocean on the deck of a ship unfit. He knew Captain Hull as one of the smartest sailors in which James W. Weldon had every confidence. Pilgrim was a powerful, light ship known to all whale-fishing. It was a wonderful occasion he didn't want to lose. And Mrs. Weldon is looking to use it. Cousin Benedict, it goes without saying, he had to accompany her.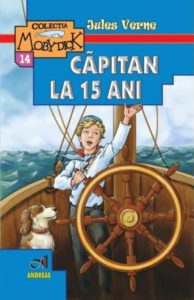 ---
The 15-year-old Captain's Book can be purchased from: