Quote of the Day – September 16, 2017: Those who leave and those who remain – Elena Ferrante
I hadn't seen her in decades. The once beautiful face was destroyed, his ankles became enormous. The hair, once brown, was now brightly reddish, long, as she wore when she was small, but rarely and stretched on the soil of freshly ploughed flowers. Only one leg was wearing a tangled shoe with a heel down; in the other he had a grey wool sock, with a hole that would come out of his thumb, and the shoe was one meter away, as if he had tossed with it in a moment of suffering or great fear. I burst into tears, and Lila looked at me in a coma.
We sat on a bench nearby, waited in silence for Gigliola to be taken from there. At the moment, it was not known what had happened to him, how he had died. We retired to Lila's house, her parents' old and small apartment, where she now lived with her son, Rino. We talked about our friend, she blamed her, the life she had taken, the claims, the hiding place. But now I was the one who couldn't listen, I was thinking about that face in my profile falling on the flowery earth, the long, rare hair, the whitish spots on my head. How many people who had grown up with us were no longer alive, missing from the face of the earth either because of the disease or because they had grinded their nerves or because their blood had been shed. For a while we stayed in the kitchen apathetic, without any of us squeezing the table, and then we came out again.
On that beautiful winter day, the sun made things quiet. The old neighborhood, unlike us, remained the same. They resisted the low and gray houses, the yard we were playing in, the road, the black mouths of the tunnel and the violence. But the surrounding landscape had changed. The green stretch of the lakes no longer exists, the old canning factory had degraded. In their place came the sparks of glass skyscrapers, once signs of a bright future in which no one had ever believed. Over the years, I'd recorded all the changes, sometimes curious, sometimes careless. When I was little, I imagined that, beyond the neighborhood, Naples offered nothing but wonders. The central station's skyscraper block, for example, had impressed me a lot, decades ago, by erecting it, floor after floor – a building skeleton that then seemed very tall to us – in part of the original station. What I was wondering when I passed through Garibaldi Square: look how tall he was, I was telling Lie, Carmen, Pasquale, Adei, Antonio, all the colleagues i used to go to the sea with, around the rich neighborhoods. Up there, I was thinking, the angels live and they're definitely enjoying the whole town. How I'd like to climb, climb to the top. It was our skyscraper block, even though it was outside the neighborhood, something I saw growing day after day. But the work had stopped. On my way home from Pisa, the station's skyscraper blog, more than the symbol of a renewed community, seemed like a good place to nestle inefficiency.
At that time I realized that there was not much difference between the neighborhood and Naples, when the river slipped from side to side uninterrupted. Every time I came back, I found a city made more and more of the shell that couldn't withstand changes in season, heat, cold and especially storms. Behold, the train station in Garibaldi Square had flooded, behold, there had been a landslide, the current remained failing. I had in my memory dark streets full of dangers, increasingly chaotic traffic, drilled paving, huge puddles. Overloaded channels were out. Water, dirt, garbage and bacteria spilled like lava into the sea from very new and very fragile construction hills or eroded the world below. People died from negligence, corruption, oppression, and yet, in all elections, enthusiastically approved the politicians who made their lives unbearable. As I got off the train, I moved cautiously through the places Where I grew up, taking care to always speak in dialect. I thought I was going to say I'm one of you, don't hurt me.
When I graduated from college, when I wrote out of a fire a story, which, totally unexpectedly, in just a few months, turned into a book, it seemed to me that the world i came from, with everything that contained, had worsened even more. While in Pisa, in Milan I felt good, sometimes even happy, in my city I feared, every time I came back, that something unexpected would prevent me from getting out of there, that the things I had acquired would be taken away from me. I couldn't have gone to Pietro, who I was supposed to marry soon; I would have been prevented from entering the elegant publishing house space; I could never have enjoyed the favors of Adele, my future mother-in-law, a mother like mine had never been. Already in the past the city had appeared crowded, it was still a crowd, from Garibaldi Square to Forcella, Duchesca, Lavinaio, on Rettifilo. By the end of the sixties, I had the impression that the multitude of people had increased and that intolerance and aggression had been overtaken in all directions uncontrollably.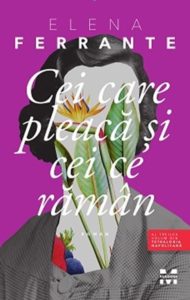 ---
The book Those who leave and those who remain can be purchased from: