Quote of the Day – August 18, 2017: Sisters Brothers – Patrick Dewitt
The boy gathers his strength and grabs it towards me, climbing over the luggage in the cart. I took his arm to help him down; he wasn't really on his feet when I took him by the fire.
 – Look who's back from the brink of the ugly death, Charlie greets him cheerfully.
 – I want the rifle back," the boy said.
 – Then you'll be disappointed, get ready.
 – We'll give it to you on the way out, I told the boy.
I laid a plate of pork pastrami, beans and biscuits, but he didn't eat, he just sat and looked at her with grief, as if the food was making him sad somehow.
 – What happened to you? I asked him.
 – I'm sick of it, he said. Everybody punches me in the head.
 – Thank you for not drilling it with a bullet, Charlie's talking.
 – We're not going to punch you again, I said, if you don't try any tricks. Come on now, eat your meat while it's warm.
The boy knocked the food out, but he spilled it all at once. He'd lasted too much without solid food, his stomach couldn't take that much food at once. He'd sit and watch the half-consumed meat on the ground, thinking, I guess, whether to pick it up and try again.
 – Kid, charlie told her, just to see you touch her, that I shot you.
I gave the boy most of my food and told him to chew slowly, and when he finished, to lean back and take a deep breath. So he did a quarter of a watch, nothing happened, even though he was gigging his belly. The boy rises to the head of the bones and asks me:
 – You're not going to be hungry now?
 – My brother fasts for love, Charlie replied.
I turned red and didn't say anything. I had not known that my brother had found out the regime I was subjecting to; I couldn't meet his playful look.
The boy was looking at me to clear him up.
 – Do you have a pride?
I kept quiet.
 – And I have it, he told me. Or she was proud of me when I left with my father from Tennessee.
 – How did you be left alone with three carts, no animal and no food? Ask Charlie.
 – There were several of us going to look for work on the california rivers. Io, his father and his two brothers, Jimmy and Tom, then there was another friend of Tom's with his wife. She died first. He spilled everything he ate. Dad said we didn't do well to take her with us, and I thought he was right. We buried her and went further and then Tom's friend turned home, said all we had to do was take the cart, with the harness, because his heart hurt and wanted to come back to grieve. Uncle Tom shot him when he got a quarter of a mile from us.
 – Right after his wife died? I asked him.
 – It's been a couple of days since. Tom didn't want to hit him, just scare him. A little fun, he said.
 – That wasn't nice of him.
 – No, Uncle Tom hasn't done anything nice all his life. He died afterwards, in a fight, at the pub. Someone stuck a knife in his belly and his carpet blood was stuck under neath him. We were all kind of glad it was cleaned up, to put it right. It was hard to live with him. Of all people, he punched me in the head worse. He didn't need any reason, just so he could kill his time with something.
 – Your father didn't tell him to stop doing that?
 – Dad's not much of a talkative. He's a reserved man, as they say.
 – Tell the story, Charlie's urging him.
 – So, said the boy. So Tom died and I sold him the horse. We tried to sell her cart, but no one wanted it, because he didn't have any. Now I had two oxen pulling three carts at them, and when there, what do you see? All the oxen of hunger and thirst, with their backs torn by the whip, and now we're left io, dad and uncle Jimmy, and the horses are shooting at carts, the money goes and the food goes, so we sit and look at each other and we can't think of it except "'you damn it!".
 – Uncle Jimmy was still a coat?
 – I liked Uncle Jimmy until he ran off with our money. That was two weeks ago. I have no idea if he went east, sunset, stake or south. Io and Dad got stuck here, thinking about what to do. He left a week ago, like I told you. I expect him to be back soon. I don't know what's taking him so long. Thank you very much for splitting your food with me. I almost killed a rabbit yesterday, but you're hard hitting them, and I don't have much of a ammunition.
 – Where's your mother? Charlie asks him.
 – She's dead.
– I'm sorry to hear it.
– Thank you. But it's always been like this.
– Tell us your pride, I told him.
– Her name is Anna and she's got honey-like mowers. Such clean hair I've never seen in my life, it comes all the way to the middle. I'm in love with her.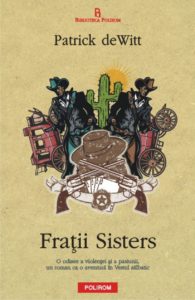 ---
The Book brothers sisters can be purchased from: