Quote of the Day – September 18 – Destiny in the Wind – Yevgeny Ghinzburg
The year 1937 actually began in late 1934. More over, from December 1, 1934.
At 4 a.m., the phone's piercing doorbell was heard. My husband, Pavel Vasilievich Aksionov, a member of the office of the Regional Party Committee of Tatarstan, was in the delegation. From their room, you could hear the quiet breath of sleeping children.
– Come at 6 a.m. to the Regional Committee. Room 38. It was ordered to me to a party member.
– Is it war?
But he hung up. In fact, and it was clear that something bad had happened.
Without waking anyone up, I left the house long before public transport started circulating. I remember well the soft snowflakes falling without noise and the strange ease i was walking with.
I will not use big words, but to respect the truth, I must say that if I had been ordered that night, at the dawn of these snow-covered dawns, to die for the party not once, but three times, I would have done so without the slightest hesitation. We didn't have the slightest shadow of doubt in the justice of the party line. Only Stalin could I not idolize (what to say, instinctively!), as he was fashionable at the time. In fact, this feeling of caution towards him i was carefully hiding even from myself.
In the corridors of the Regional Committee, about forty communists, scientific activists, were already crammed. All known people, co-workers. Up in the middle of the night, they all seemed pale, quiet. They were waiting for the Secretary of the Regional Committee, Lepa.
– What's the matter?
– I don't know. Don't you know? Kirov was killed…
Lepa, a rather phlegmatic Latvian, always relentless and with hard-to-decipher thoughts, party member since 1913, was not himself. His message only lasted five minutes. Turns out he didn't know anything about the circumstances of the murder either. He was just repeating what was said in the official communiqué. We had only been called to be sent through businesses. We should have sent short messages to the workers' meetings.
I got the fabric factory in Zarecie, kazan plant district. When I sat on cotton bags, right in the workshop, I was conscientiously repeating Lepa's words, but my thoughts, in confusing chaos, were flying away.
When I got back to town, I went in for tea at the Regional Committee cafeteria. Next to me, he happened to be Evstafiev, director of the Institute of Marxism. He was a simple, good man, an old proletarian from Rostov, a party member with a pre-October internship. I was friends with him, despite the age difference of almost twenty-five years, when we always met we talked with interest. Now drink the tea in silence without looking at me. Then he looked around, leaned towards my ear, and in a somewhat strange, foreign voice, upon hearing which deep down I had the feeling of a great misfortune, said:
– And only the killer is a communist…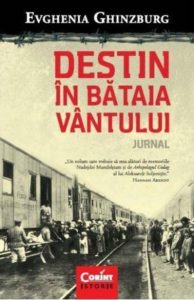 ---
The Book of Destiny in the Wind can be purchased from: