Quote of the Day – September 19, 2017: Count the Stars – Lois Lowry
Annemarie arranges her voluminous backpack better in the back to balance the balance of textbooks.
– Are you ready? she said looking at her friend.
– No, Ellen replied with a laugh. You know I can't win, I have shorter legs. Can't we just walk, like civilized people?
Ellen was a short and plump ten-year-old girl, unlike annemarie's ascens and supple.
– We have to train for Friday's race – This week I'm definitely winning the women's race.
Last time I came out the second, and since then I've been training every day. Come on, Ellen, annemarie sat, measuring the distance to the next corner of Copenhagen's street. Please!
Ellen was bugging, nodding and putting her backpack on her shoulders.
– Oh, fine. Ready.
– Let's go, let's go! Shout Annemarie.
The two girls started running along the sidewalk. Annemarie's silver-blond hair was waving behind her, while Ellen was treading brown tails.
– Wait for me! shout little Kirsti, who is lagging behind.
But the two older girls didn't pay attention to her.
Annemarie immediately overtook Ellen, although her shoelace was untied while running on Østerbrogade Street, past the shops and cafes in the neighborhood where she lived, located in the northeast of Copenhagen. She passed around a black-clad old lady who was carrying a shopping net. Another younger lady walking a child in a stroller pushed away to make room for him. The corner was right in front.
Annemarie raises her gaze, panting, as soon as she reached the corner. He was stopping laughing. My heart seemed to have stopped beating them.
– The mattresses! Order the soldier in a harsh tone.
As familiar as this German word was, it was frightening. Annemarie had heard him countless times before, but it had never been addressed directly to her.
Behind her, Ellen slows down and stops. Far behind, Kirsti was slowly advancing, sulking that they had not waited for her.
Annemarie's looking up. There were two of them. That meant two headphones, two pairs of cold eyes that looked at her hardball and four well-polished, polished boots, stuck in the sidewalk, and blocked her way home.
And it meant two more weapons, which the soldiers held tight. He's looking at guns first. Then, eventually, he looked at the face of the soldier who had ordered him to stop.
– Why are you running? ask the harsh voice.
His Danish creaked. "Three years," Annemarie thought with contempt. "They've been in our country for three years and they still don't speak our language."
" I was racing with my girlfriend, she replied politely. Every Friday in our school, there are competitions and I want to introduce myself well, so…
His voice is faded, leaving the phrase unfinished. "Don't talk too much," he said. "Answer them and that's it."
Take a look back. Ellen was hanging on the sidewalk, a few feet back. Kirsti, and further back, still sulking, slowly approached the corner of the street. Nearby, a woman who had stopped on the doorstep of a store was looking at them without saying anything.
One of the soldiers, the tallest, was on his way to Annemarie. She realized that he was the one she and Ellen had finally nicknamed "The Giraffe", because of the height and long neck coming out of the stick collar. He and his colleague always sat in that corner.
He poked his backpack with the gun's bed. Annemarie was shaking.
– What have you got here? he asked in a resounding voice.
Annemarie surprised the slowly withdrawn seller from the door with her tail until he went unseen.
– Textbooks, she replied.
– Are you a hard-working student?
He thought he was speaking to him in a mocking tone.
– Yes, i'm sorry.
– What's your name?
– Annemarie Johansen.
– And your girlfriend's a hard-working student? said looking over her, at Ellen, who remained targeted in the place.
Annemarie also turned her head around, and Ellen, usually blushing, had now been gouged, and her black eyes were wide open.
He was nodding his head in a sign that he did.
– She's better than me, said Annemarie.
– What's her name?
– Ellen, what are you doing here?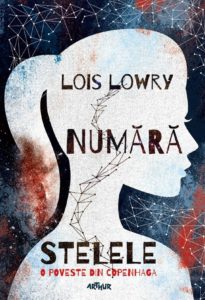 ---
The Count Stars book can be purchased from: