Quote of the Day – October 2, 2017: Don't stop me, I beg you! – Adebayo Vaju
The night lights got my attention. All I could see was the glow of the front headlights. On my lips I could feel the salty taste of tears. So many experiences, so many feelings… All lost in such a short time and yet so long. I was just thinking up front, not turning my head even to the side. Imposing trees, poorly lit ads, fog and darkness, too much darkness. I looked back one last time. Through the deluded darkness, I could not see only beacons and moving shadows, shadows that were held alive after us.
 – What are you looking at?
 – Nothing at all.
 – It's long overdue! You haven't seen him?
 – No, no, no, no, no,
 – To the right. He slowed down when it came to us, even looked Latin for a few seconds, where were you then?
 – I didn't see him, I said, snittizing his head to strengthen my denial.
 – How could you not see him? Were you busy crying or what? It's not worth complaining about, it's not worth anything. It's not worth being so sad. Hear? I'm talking to you now, I'm not the radio. Helloooo… what are you going to do Hear? IT'S NOT WORTH IT!
 – I can hear it. You don't have to scream.
yes, he didn't deserve it, I knew that, much better than he knew, I just wasn't crying for him, I was crying. And I wasn't in the mood for this live polemic right now. From behind the computer screen was different. That's where I could have talked to him more casually and took his reprimands differently. Now, it's like slapping me in the face and I have to keep my mouth shut and feelings locked with a lock.
I called him, and he came to take me, without preconceived ideas, no jokes, without his heart mocking. Nobody helped me. Not mom, not dad, no other friends. Anyone. No one at all. I called him without waiting for anything on my way to madness. No words, no love, no remorse, no more care about anything and no one. That's how I got in the car with him, and now I was being driven into the world. And all of this happened because someone else had not appreciated the "nothing" i had to offer. Mda… What else would be there? Nothing! So… Have a safe trip.
 – Where are we going? I managed to ask after I don't know how much time to wander around town.
 – Well, where do you want to go now? Are you hungry?
I shook my head not.
 – You want to take a walk? Shall we go to the park? We're getting out of the car for some air, will you?
 – In this weather? Are you crazy? God forbid! No, I don't want to, I repeated the gesture decided earlier.
 – No, i'm not. You don't want me to understand that either. Well, if you don't want that and you have no other idea, then we're going home.
 – At home?
 – Yes, at home. My place. What, did you imagine I would have taken you back to you?
 – No, no, no, no, no, But to you…
 – Don't worry, I'm not going to rape you. Or maybe you want me to take you back, sit there alone? And you can ask me, I'm not taking you. Maybe tomorrow. No, not tomorrow. I'll take you the day after tomorrow. Or maybe I won't take you at all. Who knows?
Absent, I approved.
 – Yes, OK… I'm going to your house.
 – Are you going? You make me laugh. Do you have another option?
 – I've got it.
 – Yes, you do? What would that be?
I had gone to my mood for conversation.
 – OK, then. Let's look for a gas station, something else isn't open at this hour. Let's buy cigarettes and a bottle of wine. Red. Semisweet. That's how you like it, isn't it?
 – A bottle of wine?
 – Yes, i'm sorry. A bottle of wine. You want two? Or do you want anything else from here? Say, you don't leave the house for two days, I'll impound you there until I see any more tears on those cheeks.
 – I don't want anything. Just take the wine.
 – Okay, i'm coming to be. Here's the deal: We're emptying it into delirium. Each, a glass and in each glass we put a bitter thought, huh? And we drink them, I drink yours, you drink mine. And we put in another glass, and we fly and dream, we get high.
I was laughed through tears. Bitter sweet combination.
 – All right, i'm going to go That's what we do…
 – You liked it, didn't you? I heard that in a song, I made the interesting thing now, to amuse you, he calls out to me as you come down, slamming the door behind him.
I liked the idea. I admit I'd like to fly a little bit and maybe stay up there in heights. But now I've had a thousand thoughts going on playing mocking with my mind. The key was in the ignition.
Hm… How long does it take me to get behind the wheel, run and maybe disappear? He can handle it without a car.
But I thought too much, he was already coming with the bottle of wine.
With every minute I spent next to him, I realized I was headed for nothing. And it wasn't the first time I'd thought of it. A rebellious tear dropped me, but I quickly wiped it with a strand of hair, hoping he wouldn't notice the gesture.
 – Are you crying again, girl? Come on, say fast, why are you crying now? Hai… Talk to me, unload!
 – Well, how can I not cry… Nobody and nothing wants me. Why are you doing this for me? I don't have any sense in my life anymore, you know. I'm not capable of feeling anything anymore. I don't even think I'll ever be. I'm dry, I'm drying up, I'm splitting. I'm dead, zombies, a walking dead, you don't see me?
 – That's bullshit! You're feeling pretty intense. Isn't that a feeling? And I want you, what do you mean no one wants you? Am I nobody to you? Or now? Listen to her, no one wants her, she doesn't feel anything… Look! You hate him and I love you. I think you're very upset right now, you have reason to be. But it's not as black as you say. You'll see, give yourself a chance, life is beautiful. I can add, next to me, if you want.
I don't hate him, I don't know that step, from love to hate, unfortunately for me. But that's the thought I want to hold for another time. And you, yes, are dear to me… Or whatever I'm, I don't know, I like being with you, next to you, whatever and this… I don't know, i don't know
I ended up in his apartment.
It was hot, ordered and smelled like freshly made coffee. I wasn't here for the first time, alone with him, but it was like now it was something else, different from other times. The laptop was open and, automatically, I stretched out my arm and touched the mouse. The screen is light, bringing me under the eyes of the YMessenger window with the whole discussion. I read a little, then I abandoned it. Now I was even more awkward. I wanted to smoke. I sought an ashtray, but, not finding any, I thought I could take advantage of the moment and be alone with me.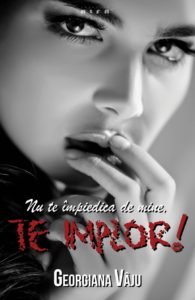 ---
The book doesn't stop me, I beg you! can be purchased from: