Quote of the Day – 20 August 2017: The Urie Dress – Theo Anghel
Before dark, Mason decided to go to the old house, and Ana expressed her desire to accompany him, especially since she became curious, listening to Betty talking about her.
 – I'll take you tomorrow! He's about to get married, and there's a lot you'll never be able to see. I'll just take a look and come back quickly, he said, leaving.
 – Oh, but I'll go! I won't be able to close an eye, still waiting for tomorrow. At least calm my curiosity a little bit!
 – Well, well, well, well, well, well, well, well, well, well excludemason laughing. Today you are determined to oppose me in all of them!
Shortly afterwards they were standing shoulder to shoulder, riding on the forgiving bids, happy with an unhoped walk. Quietly walk the wide meadow, watching the wonderful bloody sunset with some kind of religious awe. The sun appeared to melt and contain in its fire lava all the sky, draining with it over the forest that, at the horizon, seemed like a compact, black mass.
It was getting cold. A fine drizzle, which felt more than it could be seen, began to float from the sky, sitting like a diaphanous silk on their shoulders. As they approached, the black of the forest melted slightly, getting color; pale – at first, then more and more alive; a multicolored cloak, in different shades of copper, looking surreal under the light of the sunset, which made everything seem like it all in an incendiary veil.
Ana can't hold an admiring exclamation in front of the scenery of perfection that leaves you without breath. The greatness of nature lies in the most natural things, in the smallest details, and a yellow leaf that trembles for the last time near the ram that gave it life, then detends in a young balance to become food, is a spectacle that it gave life, then detends in a young balance to become food, is a spectacle that it has given none of those invented by people could equal him.
The forest is contained in her lively body. The leaves crushed under the hooves of horses and the noises made by the little living things that had found themselves adhered among the partially unclear branches of the trees, represented new sounds for the ears of the townspeople, accustomed to the strident rhythm of the horns and they were slowly advancing, as if they had violated a magical realm, ruled by fairies. A squirrel would stop running and look ed at the master's wonder whose field was violated by the uninvited.
Ana takes a look at Mason and finds him with her eyes on her. It was the search earlier, in front of the stable, without a bit of a smile, of a seriousness freezing blood in his veins.
 – Why are you looking at me like that? she asked him, but in a way, he knew the answer.
 – I'm fascinated by the way I see you observing and living everything! I've never seen anything like it, no one! You're like a child, and the joy I read in your eyes fuels me with so much energy, That I feel like I can take off… They're resetting me!
 – This place is to blame, she replied feeling her cheeks are lighting up.
 – I don't think where you're in is of any difference. I've noticed you in different situations…
 – Did you notice me?
 – You know that!
 – There was a time when I thought everything I inspire dislikeed you was disgust.
 He laughs, leaving his head back.
 – I'm a good actor! Businesses, whose mysteries I was forced to break into as a teenager, taught me to conceal… Even though I was dying to take over the business of one or the other, I had to give the impression that I was doing them a favor.
 – But that's honesty! And I find it sad to be forced to live like this!
 – Maybe… If you have the strength not to be absorbed by this lifestyle and you look at it as a role…
 – Role?! That sounds awful! exclaim it, frowning.
Mason laughs.
 – Sounds awful only to someone who's never had any connections to the business world. It may seem cruel, but it's not!
 – Don't tell me you've ever taken advantage of someone in distress just for the sake of making a good deal!
 – With the regret of seeing me get off the pedestal, I did it! And noticing your horrified look, I hope you'll at least appreciate my honesty!
But she looked forward, frowning, avoiding his eyes that fixed her with amusement.
 – Let's go do it differently! Mason's laughter. If I hadn't been so good at business, you and I wouldn't be able to meet!
She turned her eyes at him.
 – Oh, i'm sorry. I was sure that's how I'd get your attention! You see, when I started dealing with the family business, the situation was in free fall, and if I hadn't behaved exactly as I told you, I wouldn't even have allowed myself to look at the restaurant you were in that night.
Observing his interest, smiling, with a shadow of sarcasm in the corner of his lips.
 – Isn't that when it comes to your person, you're willing to give up your intransigence?
 – You're mean!
 – You bet I am! You're judging me! Exclaims. If the autoe had mercy on the jungle gazelle, his family would perish.
 – You mean some animals!
 – Oh, i'm sorry. puffs ironically. Do you think if we have rules that tell us what and how to do it, we're different from jungle animals? They are to be admired, they act instinctively, whereas people… It's cute that somewhere deep down lies the desire to save the world. Others tried before you and it turned out: She can't be saved!
Seeing the expression of sadness perstanding on her face, she feels gripped by irritation.
 – I have a duty to my family and to the people I love. For them I'm capable of anything! Any! said with fury, squeezing the hangers with such force that his fist was whitened, emptied of blood.
He uttered the last word, pierced it with a lit look and Ana silent, set.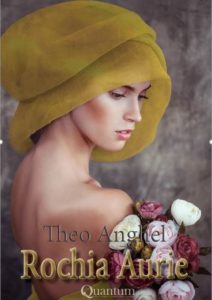 ---
The Paper The Amery Dress can be purchased from: