Quote of the Day – September 20, 2017: Benjamin Button's strange story and other jazz-era events – F. Scott Fitzgerald
Surprisingly, in the third year he could barely get a place on the team. The coaches said he had lost weight, and those of them who had more observational spirits seemed to have them that he was not as tall as he used to be. He couldn't get a touchdown – the truth is, they kept him on the team especially in the hope that his overwhelming reputation was able to terrorize and disorganize the team at Yale.
In the last year, he can't even get on the team. He got so small and plowing that one day some second-year students took him for a freshman, an incident that humiliated him terribly. When he became known as a kind of child prodigy – a senior student who was definitely no more than sixteen – and often shocked him to notice how versed some of his colleagues were. The study found it harder and harder – he felt they were courses too advanced for him. He'd heard his classmates talking about St. Midas's, the famous preparatory school at which so many of them had trained for college, and decided to go there after graduation, considering that it would be better suited to a life at the shelter among boys of the same height with him.
After graduating in 1914, he went home to Baltimore with his Harvard degree in his pocket. Hildegarde now lived in Italy, so Benjamin went to stay with his son Roscoe. There, however, although he was generally well received, you discover that in Roscoe's feelings towards him there was no heat – even his son's tendency to believe that Benjamin, who wandered around the house like a teenager with a mind elsewhere He was kind of in the way. Roscoe was now married and had an important position in the social life of Baltimore, so he didn't want any scandals about his family insinuation there.
Benjamin, who was no longer a person a grata among debutantes and younger students, is said to have little to do but spend time with about three or four fifteen-year-old son of his neighbors. He's got the idea of going to St Midas's school.
– Listen, he said to Roscoe one day, I told you over and over again that I wanted to go to prep school.
– Well, then go short line Roscoe, which the matter in question disgusted and would have preferred to avoid such a discussion.
– I can't go alone," Benjamin said with helpless air. You have to sign me up and take me there.
– I don't have time, says Sharp Roscoe. (Miji his eyes and looks embarrassed at his father.) In fact, you'd better stop keeping her around with this. You'd better stop it sometime. It would be better… It would be better… (he stopped, making himself scarlet in his face while looking for his words)… You better come back and get it back. This job has crossed the limits of a joke. It's not funny anymore. You… You do well and behave yourself!
Benjamin's looking at him, ready to burst into tears.
– And one more thing, continue Roscoe, when there are guests in the house, I want you to address me with "uncle"… Not with "Roscoe", with "uncle", you understand? It's absurd to see a fifteen-year-old boy calling me by my baptismal name. Maybe you'd better call me "uncle" all the time to get in your habit.
After he gave his father a rough look, Roscoe turned around and left…
At the end of that meeting, Benjamin climbed the ladder slowly and drearyly and stopped to look at himself in the mirror. He hadn't shaved in three months, but he couldn't spot on his face anything but an alial jam in which he didn't think he needed to mix. When he first came home from Harvard, Roscoe had approached him with a proposal to wear glasses and fake favorites stuck on his cheeks, and at that point he had the feeling that the farce of the first years was going to be repeated. But the favorites were itchy and made him uncomfortable. He'd cryed until Roscoe's in the gall.
Benjamin opened a book with boy stories, the Scouts of Bimini Bay, and began reading. But he was said to be stubborn ly thinking of war. America had joined the Allies in the previous month, and Benjamin wanted to enlist, but, alas, the minimum age was sixteen years old, and he didn't look that big. However, he would have disqualified his real age, fifty-seven.
There's a knock on the door, then the butler appears with a letter bearing in a corner an imposing inscription addressed to Mr. Benjamin Button. Benjamin had greedily broken the envelope and read the letter with delight. It was informed that many retired officers who had fought in the Hispano-American war were called back to active service and advanced in rank; included his appointment as brigadier general in the United States army, with the order to report immediately. Benjamin jumps on his feet trembling with enthusiasm. That's what he wanted. He put on his hat and ten minutes later he enters a tailoring workshop on Charles Street and asked with his sharp and uncertain voice to take his measurements for a uniform.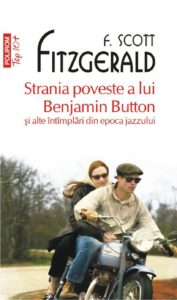 ---
Benjamin Button's Strange Story book and other jazz-era events can be purchased from: