Quote of the Day – 21 August 2017: Mâţa Vinerii – Doina Rusti
That fall, engulfed in heat, no one was talking about was the kidnapped cook. Every time should be judged by the facts that lit him up. If you ask me now what I remember from then on, the cook comes first.
All this was happening in Costas' day, because one of the greatest fun of the Turkish Gate was to fool a Greek that he could become a prince and master over a Valah country, at the modest price of only 400 bags of pentecost. No one had any idea how much a country was doing. But it wasn't the actual value that mattered, but that "at the price of only", which still bothers you today, letting you know it's a chaff. Gone by the nose, the bargainer gave the bags, becoming the master of Wallachia, imagining that he would be outof his life with his fallen subjects. But after a year, another plesis appeared, with another 400 bags. Therefore, when I arrived, Bucharest had had at least 30 Greeks, not counting the Russian army, as he regularly took it to Bucharest by sweeping out any leader, without taking into account the expenses that the poor man had made. Luckily my soldiers had itching on his feet and never stood too long.
The Turks did not covet this throne, content to sell it to the Greeks and, of course, because they were careful to keep him always busy, more stuffed and from the subjects another 400 bags, plus gifts, gold cups, fabrics, furs and, in general, expensive things that do good to a Turkish soul.
The Greek who ruled Wallachia, named Costas, was a great gourmet. And it happened that he lived in Bucharest at the time, a skilled chef named Silică, a small gypsy, full of ifoses. To him, the kitchen was some kind of shrine. Every food looked more like a statue about to be placed in Lipscani Square. He made steaks rolled in almond powder, mozolite with honey and cinnamon. He was the master of hops, whose leaves he neared only so he could resurrect them with pepper. And of all things, sweet olights were his favorites. You don't know how much passion he was putting on, boiling them in sage and izma leaves! Once this thing was done, he cut them out of two, took out the yolk, which he kneadwith cream, stuffed with cranberries and other jams, and with this mix he filled the egg white again. It was only at the end that art was, when it covered the olight with chitra and cinamom jam, and under the crispy crust trembled the creamy whose secret was lost. He liked crayfish meatballs, especially soaked in rose or plum vinegar. What about sausages! It had no equal how the stuffing matched, especially when it came to the urda, the flesh rubbed with raw garlic, liver or brain softened through sesame, cocoons and other seedlings that were hard to guess. And the nut cakes and the pelteaua left anyone with a gaping mouth, not only because of their taste, but also the shapes they had, the melted castles under the weight of a snowfall. And he cooked not only for insane bellies, but also for desperate souls. Here I would mention the beetles, kept over a whole night in wine and then perroared on coals. He was the godfather of liqueurs, the master of the afion and a kind of veneni pater, also good for elixirs against ugly or inlet, but also at the unimaginable sauces for blood diseases.
For every food he struggled tenfold. To make a certain soup, nettles, for example, roamalled all markets, tasting the whey himself for sour. That is why he had become a kind of fear of the quacks who, had not been the gypsy of CaterineiGreceanu, would not even have talked to him. Silica was born of gypsies who carried the imprint of a large boyar house. For every servant has the seal of the master inscribed on his face, in movements, and even in the way he wears the rags on him. Especially in Bucharest it is not at all difficult to tell who a gypsy belongs to, whether he is raised in boyars or if he is taken from the fair, after going through several hands. Silica looked like a fanciful man, neither young nor old, the age at which you know for sure he doesn't change.
This chef laid eyes on the Greek, who was then the rightful master of a country he had given 400 bags. After being invited to the table in the house greceanu, Costas, great princes and gourmet, commanded that the chef be passed among the moving possessions of the Palace, simply abducting him from his mistress.
That was beyond thought at the time. She had never mentioned himself as an inherited gypsy, with archoondology as clear as in this case, to be taken from the mistress's house, who not everyone neither.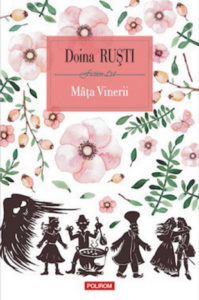 ---
The Book of Mâţa Vinerii can be purchased from: