Quote of the Day – September 24, 2017: A death that proves nothing – Anton Holban
Happiness was great when I was given the opportunity to go to Paris! The purpose of my childhood was achieved. I would finally walk through all the hungarians that I easily guided my mind and where I had placed only with the imagination hundreds of novels whose action was going on there. Palpitation of joy, I was studying, along with Irina, the guides, the maps, the explanatory books. I used to carry it with me in the shops, to the launderers, to train ticket offices, perside my plans. The day of departure arrives, and drove me to the station. The train had 20 minutes to go, I'd settled in well, and now I didn't know what to talk to him. (Perhaps because i am obsessed with the idea that breakups must be learned of sighs and words.) And I sketched a theory: "Always before you break up with a loved one you are not good at talking to them, precisely because you have too much to say." So i was apologizing to the dryness from that moment on? Or was it a means to calm down, seeing her indifferent? In any case, we were both (perhaps because of the world that prevented us) and the breakup had nothing of the tragedies of yesteryear, every night. On the cold cheek you put a short kiss, and her mouth didn't even touch me. Then the train starts.
I quickly forgot the reasons for the worries I'd left. I live off surprises, and in the evening I fall asleep tired of running through museums and the streets. From Irina I come my letters on the fixed date, as I had decided at home. I say it conscientiously, but hastily, thinking elsewhere, talking to her about things that she probably doesn't care about. For example, in a letter I only told him about Sainte-Chapelle. About me and her nothing, just a "darling" at first and "kisses" at the end. Is that how lovers write, and are these the means to maintain unquenchable fire?
It's been a month and I'm at an twilight in the Jardin du Luxembourg. It's great, the sun just set, the evening goes down harmoniously, on the trees, on the flowers, on the water basins with red reflexes. Alone, i'll turn my hands, point my eyes to the sky, and I pray:
"God, I rarely visit you, but I am now so happy that my visit is mandatory, no matter how careless you are to all, or only to me. Thanks to thee, perhaps, my life is in perpetual transformation. Surprises adorn any moment on new occasions of intoxication… I feel my body healthy and sprinten, no defect in the complicated machine, and my mind can point it at will, towards the most subtle discoveries. You have enriched the world so that your eyes and ears are eternally delight. I'm almost completely happy. All the discontent of yesteryear is gone, perhaps because I overreacted by thinking I was irretrievably ill, for whatever reason.
Just one discontent. I left home a girl who loves me. She's not beautiful, and my eyes are quickly tired heading towards her bicisnic figure. She's not a scientist, and I've been bothering talking to myself, useless and ridiculous. She's not rich and I'd be hard walking around wearing it on my shoulders, like snail slugs. But she's in love, because for love, there's no need for mind, beauty or money. I felt it that she was living only by thinking that alone would dry herself just like a blooming flower.
God, get my freedom back… How could you only understand yourself with your avant-garde prowess. I can't make any decision."
How it's been three days, and since I didn't get a letter from Irina, as usual, I telegraphed:
"I'm eriveting. Comprends pas votre silence."
My telegram remained, after a week, unanswered. Sudden anxiety banished my composure and dried my curiosity for the beautiful, which I feared inexhaustible. My prayer a few days ago seems meaningless to me, or I am now meaningless, because unexpected was the disorder that holds me. I try to think precisely of Irina, so That I can find the probable explanation (leaving aside some fatality of extravagant nature). Perhaps it annoys me more than the powerlessness of my logic than the very reason for the delay in the letter. How? I can't deduce what Irina would be able to do in my absence, after living around her for so many years, and even though I didn't particularly take care of analyzing her, yet I know her, fatally, pretty well? To think about the desperate kisses every night… but also to the cold kiss at the last… Has it evolved maybe? But I remember the tender confessions that have happened lately. And then there's so much evidence that contradicts each other over time, or even with reverse meaning, overlap. To be honest, I can't say anything. The more I think about it, the less the details multiply, and I see the less clearly. It's painful that the human soul is so lacking in consistency. And it is with horror that I see that Irina may have made exaggerated decisions or so many other intermediatedecisions. It may be, by acknowledging the most extreme possibilities, he killed himself for me or married for another.
When I met her, I was young, I'd just entered the Letter School. I had all the flaws of youth. I thought i was beautiful and happy to be late for the mirror, where I always varied my pictures, among which my lip was a sure sign of distinction. I used to change my clothes several times a day, powder myself and even turn red. I was comparing myself to the other students, I found myself best, and in love, my successes seemed indisputable to me. However, by then, the adventures had been very vague. A disastrous shyness stopped me from taking the first step, daring to approach a girl with no prior notice and long qualifiers, shyness who – seeing with spite – was delaying my plans, but at the same time I was also the console: I was putting it on her account my loneliness. But I little managed to have knowledge. I was talking to all the ugly girls. Curiously, to talk to them, I couldn't feel any emotion. I wanted to be thrilled at all costs, and at first I didn't notice that, after all, I was just as lonely. Compared to an ugly woman, I was incapable of engaging in any way. But I was looking at the bottom of the amphitheatre and congratulating myself that it was still missing to get to know everyone.
A group of three girls, especially, seemed intangible to me.
They were always together, without interference among others, vigorous, hasty, surprising, getting it, it seemed to me, to be polite to all and at the same time distant. The ease with which they slipped through the world much, the safety of gestures and yet their loneliness impressed me, and then an ambition has come to me: their knowledge – I was not moving forward – would be proof of my importance. But I didn't know how to start. The beginning always seemed extremely difficult. I was afraid my first move wouldn't be ridiculous. From then on, i found a good reason for torment. And I was exclaimed ridiculously – ridiculous that I thought was attenuated, because I realized his presence: "I'll never be a Don Juan!"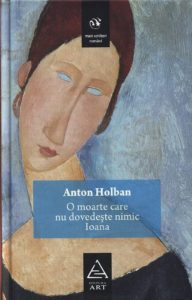 ---
The book A death that proves nothing can be purchased from: