Quote of the Day – August 25, 2017: South of the border, west of the sun – Haruki Murakami
He ordered another Wild Turkey with ice. I used to drink vodka and lemon.
– It doesn't matter if it's worth it or not, I want you to tell me everything.
– Well… you know, i don't he started, hesitant. Not that it doesn't matter, but sometimes I sit and think about whether it really happened. I have a strange feeling. Sometimes I think I dreamt, sometimes that it wasn't a dream. You know what I mean? It's kind of hard for me to explain.
– But it was reality, wasn't it?
– Yes, it was.
– Then I want you to tell me.
He nodded, resigned, and took the whisky glass to his mouth.
– I went to Toyohashi to see my little sister. I was away in Nagoya and because I finished my job on Friday, I decided to spend one night at my sister's. That's where I saw her. I climbed up with the same elevator. I thought I knew her, but I wasn't sure it was Izumi Ohara. It's incredible that I met her in the elevator of the block where my sister lives. She was very different. I think only intuition helped me realize it was her.
– Was Izumi sure?
He approved, nodding.
– Incidentally, he lived on the same floor as my sister. We got out of the elevator together and went in the same direction down the aisle. She was two apartments before my sister's. I checked out of curiosity and the tile on the door and wrote Ohara on it.
– He didn't recognize you?
He shook his head.
– We were in the same class, but we didn't really talk, we weren't close friends. Besides, I put on about 20 kilos, so there was no way he could recognize me.
– Was it really Izumi Ohara? Ohara is not a rare name and people still resemble each other.
– That's what I thought, so I asked my sister. He pulled the list of tenants, you know, the bearing pool, and he showed it to me. It really said Izumi Ohara, Izumi in katakana, not in Chinese characters. Ohara is a common surname, it's true, but the combination with the first name Izumi in katakana is rarer.
– Oh, so she's single.
– My sister doesn't know. He just told me she was a very strange person. He never talks to anyone and doesn't respond to his greeting if he meets someone on the landing. If anyone has anything to do with her and rings the doorbell, never open. She doesn't seem to be very liked by the world on the block.
– I think it's someone else. I nodded, laughing. It can't be Izumi. The one I knew greeted and when it wasn't the case and she was very polite.
– Whatever you say, maybe it's someone else with the same name. Let's change the subject!
– But that Izumi Ohara lived alone?
– I think so. No one saw a man come into her. No one knows how they make a living. It's a mystery to everyone.
– What do you think?
– What are you talking about?
– To her. Do you think it's the Izumi Ohara we knew or not? You saw her in the elevator! Did she look good, healthy or not?
He thought for a moment and said:
– He didn't look bad.
– What do you mean?
He gently shook the glass of whiskey and said:
– Of course she's gotten older, she's only thirty-six, just like us. Metabolism changes, muscles weaken. You can't look like a high school student all your life.
– Yes, of course.
– Let's change the subject! Maybe it wasn't her.
I sighed deeply. I leaned my elbows against the counter and looked him right in the eye.
– I want to know. I need to know. We broke up a little bit before we finished high school and our breakup wasn't exactly elegant. I did a really bad thing and i offended her terribly. I haven't heard from her since, and I still don't know where she is or what she does. It's been on my mind the whole time. Be honest and tell me everything, whether it's good or bad. I'm sure you figured out if that person was Izumi Ohara or not.
He nodded.
– If that's what you want, then I have to tell you it was her.
– And what did he look like?
He kept quiet for a moment, and then he said,
– First I want you to understand one thing: we were classmates and I admit she was a nice, kind, character-smart girl. I can't say she was an out-of-the-ordinary beauty, but she had a charm of herself and people liked her. Am I right?
I approved it.
– You really want to know the truth?
– Yes, i'm sorry.
– You're not going to like it.
– That's all right. I want to know.
He took another sip of whiskey.
– I was jealous of you. You were always together. I wish I had such a friend. I guess I can tell you everything now, right? So it was normal for me to remember his face, because it had been secured to my memory. Although it was eighteen years old, when I saw her in the elevator, I immediately realized it was her. I have no reason to speak ill of her at all, but I confess that I had a shock. I wish I didn't have to admit she didn't look good at all.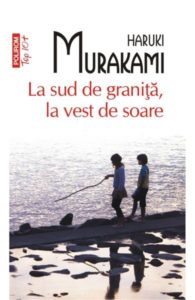 ---
The Book South of the Border, west of the sun can be purchased from: