Quote of the Day – 28 September 2017: Invitation to waltz – Mihail Drumeş
I've been waiting for Mihaela all day. He told me he was coming without specifying the time. I hadn't asked her, I couldn't ask her, because there are some circumstances when you want something on your own, saying no or at least silently. Understanding is established above words, among words, through significant gestures and attitudes, or by the silent voice of the eyes.
In anticipation of her, I was weaving feverishly, imagining everything I would have liked to have happened after Mihaele's arrival.
I so coveted it that it seemed to me that a new love was born in me stronger than the former (or was it the first one that, due to the constraints i suffered, had increased by reaching huge proportions ready to stifle my being).
We mentally go through the history of our connection, the facts that made it up, so wonderful, so fresh! I remembered the first kiss snatched out to Mihaelei (on the ladder), the concert of the squaremen on the roof, the visit of the fearful finches that caused us boundless joy. What about the journey of love on the lands of the Bosphorus? If there was biblical heaven, it couldn't be anything like the heaven we built in the two weeks of drifting through reverie.
My dreaming with my eyes was extended for several hours, not taking into account the flow of time. But my long-awaited girlfriend still wasn't showing up. That's when I made a calculation of the probabilities about her coming, so As to figure out how much my forecast would be verified by reality.
So, hello, I was like,
1. Mihaela's coming. 2. He's not coming. In point 1 (if it comes) we add divisions and subdivisions: a. She'll be upset; B. She won't be upset; a subdivision: what we will talk about. Thus, point 1 (if it comes) is diluted in an endless series of probabilities. I didn't insist on point 2 on point 2. (Besides, I didn't even like it.)
Mihaela comes down to night and overturns all my calculation, because… accompanied by Alexa, and this i had not foreseen him. I wanted them to sit, but they didn't want to stay, and we left the three suppers.
We ended up in a restaurant and there for two hours, we planned our marriage, fixing its date, place and other details. (I was sitting on my lips to ask Mihaela who the young man who asked for her was, but I repressed my curiosity by postponing it another time when we were alone.) I was supposed to make a trip to the province to ask parents for consent. It was whether they gave it to me or not (I was a long time old major). I was doing more of a branch debt. If they gave it to me, we were going to have the wedding at home in the countryside, in a more picturesque and natural setting on the count of the old men.
Mihaela opposes her. We're going to have the wedding in the Capital, simple as a whole, with as little expense as possible. Finally, on this issue remained to discuss. At the moment we had to carry out the formalities with the civil status officer, and because we had set the wedding in three weeks, we gave up the engagement.
Mihaela always kept an unwise reserve and did not interfere in the discussion unless i asked her anything. (I didn't like her attitude, but what I cared about: she consented, and that was the main.) I had more conversations with Alexa, who gave me too much advice (obviously good) and moderated my elthwith a lot of tact.
At last! From now on, my bachelorette could have taken off. In the following days I used them with forms with the civil status officer and preparations for my departure to the country. The parents were very surprised by my unexpected arrival. (I should have announced to him telegraph.) Without wasting time with detours, I showed them the purpose of coming open. My father measured me from growing to my feet, without saying a word, then he took an interest, of course, in Mihaele's dowry.
– She's poor, I told her, but good family. We'll both work and hold on. We're not going to starve. What do you want, they don't all get wealth.
– It's stupid what you want to do. That's how you young people are: you get hot in the first fantasy and then you rip your hair out of your head. Boy, marriage isn't love, you know from me that I saw the sun rise before you. First it's hunger and then love. I'll always reverse them.
And give it to him, give it to him, he gave me a harsh moral and as paternal as possible. I was listening to him gloomyly, and when i was done (and he was sure he had convinced me) I abruptly cut it off.
– Well, I'm determined to get married!
– If you're so determined, what was the point of asking me?
– And when you took my mother, you overcame the will of your parents. Tel père, tel fils!
I saw him go. I hit the head.
– I didn't listen to them, that's right, but I didn't depend on them either. Besides, you don't have children to judge your actions.
The atmosphere was full. At dinner in the evening, there was an ice silence. He hadn't brought up marriage, neither did I.
Only my mother, when I was alone with her, asks me discreetly, with daring:
– Is she beautiful?
I showed the photo of Mihaele i'd taken with me on a joint side. He put his glasses on, a reminder stake and a flash light, and a smile light, and it's on his face.
– Little girl, she's almost a child!
My mother's exclamation oppresses the effect of a heavenly mane. I kissed both of the cheeks several times, and then, grabher in my arms, I did a few tours through the room. And now, when I remember this scene, I'm a boundless dare.
– If you love her, take her, she told me. God help you! As for Stroie (dad), he's going to be endearing himself with the weather, don't worry about it.
I returned to Bucharest without a word of unraveling from my father. He was intransigent, with prejudice, no one took him out of his.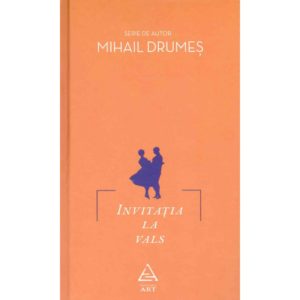 ---
The Waltz Invitation book can be purchased from: