Quote of the Day – September 29, 2017: Orion rises – Poul Anderson
Looking for a touch of safety, take a look back at the soldiers. By the nature of the profession, they were strong. But the faces shaded by the ridge headphones, their uniforms and flags were foreign. Even the way they were on the way, the pace of their lancecs was different. Their unkempt outfit, the non-existent formation, at least by the standards known to Iern, all gave the impression of a snake to ride in the sun, ready to jump to the slightest movement. Now, the short overnight calls had made way for ordinary discussions, but if any of them were telling a joke in their shrill language, the rises that broke out didn't sound like those of the Urops. He turned his attention to the commander, who was on his way to the right. Although short and stuffed, Orluk Boktan held his back so straight that he seemed taller than he really was. He was pulled to his face, flattened nose and gray eyes, apart, gray mustache and a split beard. A scar was bleeaning his left cheek. He was plunging and baldness was shining on them. His collar was unbuttoned and puffed from a stinky cigar. He had a harsh voice, but he was courteous, as far as Iern had noticed, when he answered his questions.
Ronica, to his left, was the one leading the discussion, translating from Unglish to angley and vice versa. Plik and Mikli were on their way behind them. Terai and Wairoa were at the end of the column; He couldn't see them from here. Poor people, think Iern. Ronica had explained to him why it was necessary for them not to say a word, and Iern had to accept this measure. Whatever cause he was serving, he didn't want to know the girl in distress. How beautiful, she is, on a rode, under this endless sky. Did I fall in love?
– Yes, called him Orluk, through the girl, I'm from the west, from Yo-Ming, and I know the mountains of the Border well. The Bison cohort has a territory there and there lives the oldest of my wives, along with our children and grandchildren. I visit them whenever I get the chance.
– How did you come to live so far east?
– Thanks to your son, he smiled. I was lucky enough to participate in many of the last clashes. I quickly promoted, earning the superiors' appreciation. The Bison cohort has many members in the Chai Ka-Go area, which moved here when the city was expanding. When their old noyon died, I was invited to take his place. It wasn't easy to go from hills to the plain, to lead people from farms and the city, instead of lumberjacks, trap-like chicks and hunters… But here they needed me, maybe precisely because there are forests in these lands, where the Bison will once have to fight. A real soldier can't refuse a mission. But I wanted my sons to grow up in the land of their ancestors.
– Have you been here long?
– Fifteen years. It's not bad. I have a beautiful house in Chai Ka-Go, which is a place where you never get bored; I also have a wife here, who gave me children, and in a few years I will have grandchildren. Without bragging, I'm good in command, I say. Who were those sent to ransacked the Krasnayene forests in search of bomb hunters? Bison! Remembering this, Orluk lost their good will, frowning and puffing with thirst from cigars. And yet, we didn't find anything until your group came along… When I think of my wives, children and grandchildren… Ah, if you want to get those dogs to talk, leave them to me. I'd squeeze out of them and the milk they sucked from their mothers.
– It's not a Geean attitude, is it? mikli ask.
– I'm not geean, Orluk replied. I give the principles and adeplets the due respect. Maybe they're right. But meditation and theory are not for people like me, and honor does not come from talking. I worship the ancient gods, Oktai, Erlik and Lenin, and the ancestors. But I don't think any geean would want to wear gloves in a case like this. What's going to happen to those two?
– I don't know, it's not in the duties of the department i belong to, Mikli told him.
– Is that so? orluk, looking back at his interlocutor. I thought you knew a lot more than you wanted to reveal.
– You're right, Mikli replies, courtesan. For example, the way the team they belong to tracked down the two of them and how we followed them with Ronica. But if I gave you such details, I would reveal things that the service i belong to would want secrets. I don't question your good faith, you son of a, but you don't need to know these things. You're military, so you understand me.
– Yes, of course, of course. But things weren't that complicated in my day…
Iern, you don't hear what the two of them were saying to themselves next. The ronica stops translating when Orluk gives him an irritated look. He continues to ride next to the commander, listening to him speak in Unglish, which increased Iern's feeling of isolation. He was lagging behind, near Plik, and his place was taken away by Mikli.
The Angleyman was awake because he had finished his drinking supplies and, because of that, he was depressed. He looked at his companion for a while, silently, before telling him:
– You seem troubled, my friend. Not scared, not terrified, nothing so shallow… Troubled, that's what you are.
Iern looked forward. The image of Ronica, riding in the strange landscape of the land of the Mong, slams it, because she unexpectedly realized how foreign, different she was.
– Yes, I suppose so, I'm mumpeing Iern.
– And you don't know why? You seem to be headed for union safety and have a wonderful companion with you.
His friend's last words were recalled his last meeting with Vanna the day before. She didn't seem offended at all when, in violation of the norms of her society, he had taken her hands into hers and kissed them. How delicate she was, and yet, how wonderfully made up.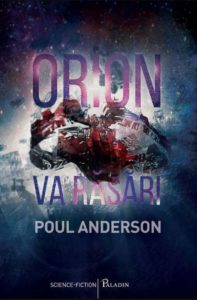 ---
The Book of Orion will rise can be purchased from: