Quote of the Day – October 3, 2017: Nymphette Dark99 – Cristina Nemerovschi
Going back to my father, he couldn't make any decisions about Tedy either. He was taking their whole goat. When they first expelled my brother in eighth grade because they had found his diary describing details how he was going to put a bomb in the gym and how he was going to torture his colleagues, working out their throat with a blunt knife, my mother decided on c It's the school they're going to move it. The rat shrugged with a "how do you think it's best." I was getting ready for the fourth-grade end banquet. I was glad to get rid of the teacher and that there was a chance, how small, that no one would call me Victoria in the future.
yes, naïveté. What can I say, I was little back then. I didn't understand the bad part that the name, once received, stays with you to the end and that, moreover, he builds a part of your personality, somehow determines your relationships with those around you. That's why many people who wear the same first name have similar behaviors and are predictable. Because they have the same name. And because they're stupid, of course, but that goes without saying.
Tedy had changed three schools and six high schools by 2012. The point is, he'd never really put a bomb. He hadn't even killed his colleagues. He was just talking about these things, his intentions. Since his second expulsion, also in eighth grade, I knew every time the next time was going to happen. There were all sorts of clues, mainly a tedy fever, a pathos he was talking to about his potential crimes. This thing scares the people around her, and when she showed up, I knew Tedy would have to say goodbye to her former classmates and profi. Well, it wasn't like he missed them after they moved out. The only beings he missed after his expulsion were the strays in the school yard. We went together a few times to see them again, and Tedy fed them chicken parsnip. Our last trip like this last year was going to end very badly. His former teacher, who had asked the council for expulsion, had seen him through the window of the chancellery and called the police. Luckily, though, we had time to erase it just in time.
My mother's last foundon appeared last october when Tedy kicked out for the ninth time since high school, following the invariable bomb threat and mutilation of my colleagues had meant with the marker on the wall of the boudoir and on the door of the chancellery and that of the physics lab, the goat had thought of enrolling him at a private high school. She hoped she would be spared the unpleasant and embarrassing question she had been asking her for a while: why was your son expelled? Her steamed mind, however, fabricated something else: let's move Vicky to this private high school, that she also has 5-8 grades, so she can stay here in two years, when she comes in. She'll meet older kids, high school, from whom she's going to learn useful things. She'll become more responsible, more conscientious. So, wanting to, I became Tedy's schoolmate again, who went into the 11th C. They put me in the 7th A. with Coco and everything.
I expected, by the summer, I'd be forced to move again. Tedy was going to bomb here, too. So, I thought, Vicky, make sure you don't feel too comfortable. You're only here for a few months. And, hell, I didn't mind this at all.
It didn't bother me until the day I met Dev.
There was once a wise man in the world, and this wise man wrote a few books. They say he had a good answer to every question. No matter what happened to you, it didn't matter how unusual it would have been, the wise man was telling you the cause, then the remedy. The wise man would know to tell me now what's with this snowball of nostalgia that fell on my head. Why do I think of my parents, tedy, school, the strays I fed chicken parsnip in the school yard, taman now, when I sit like a fool in the cold and in the rain and cry ing from the inside after the motor jacket I left in a bar in Brasov A couple of hours ago. Now, when I hitchhike and I should somehow concentrate my energy to stop an ox and take me all the way to Bucharest. And I really liked that jacket a lot; I took it from a second, from my little savings, only a week after Chance. I had made it as a gift, as a kind of reward, as a clumsy way to help me forget and move on. I really liked that I was growing up, and she was still in place. At 11, when I first dressed her, I was big, wide. Now, at 13 years and 4 months, I'm left small. What's going to happen to her? Who will find her will wear it or sell it online? Will you put an ad on a rocker forum, write that her price is negotiable? Every week, will it fall 50 lei, just to get it sold at a time? Shit, I miss it, and I'd come back for her if I fucking knew what bar I left it in.
He also had a cute patch, caught on his right sleeve with Forgotten Woods. A gift from an ex-boyfriend, since I was in sixth grade. V., who only listened to these cute fools and who had been smearing the goat for months with the "satanic" sounds she experienced on guitar in my room.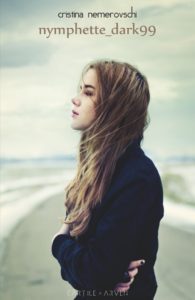 ---
The Nymphette Dark99 book can be purchased from: