Quote of the Day – 3 September 2017: Belzhar – Meg Wolitzer
The conversation wasn't going to lead anywhere, so I looked up his window and eventually Leo closed his eyes and fell asleep with his mouth open. The car was shrouded in the smell of the spiced chips he had eaten. I felt sorry for him — that now he was like a single child to his parents. That she didn't have a normal big sister. That he had, by contrast, one destroyed enough to go to live in a special school in another state, six hours away by car.
The moment of landing at The Wooden Barn was very tense. My mother kept setting up my room while the DJ was lying in bed, silently watching the whole scene, which was obviously amusing her.
– Don't forget to punch the study companion healthy every day to sit evenly filling, my mother said as she sat things in her drawers.
I pulled out of the suitcase the tiptree little scarlet strawberry jam jar, which Reeve had given me the night we first kissed, and held the cold glass cylinder for a moment, as if it were the most precious thing in the world. Which, in a way, and it was.
I knew I would never have opened this jar. It was almost like an urn with Reeve's ashes in it. The seal would remain untouched forever. The jar was sacred to me, so I put it in the top drawer of the wardrobe and covered it closely with a bunch of bras, panties and an old blouse with Tweetie Bird.
– Just reach out and hit it, okay, Jam? My mother continued. Just hit it, like it's an aggressor jumping on you on the street corner.
– Mom, I said, while dj kept following us.
He wasn't even pretending he wasn't looking. He was me off, this roommate of mine. I couldn't believe I had to stay with her.
– I mean, punch her right at the bottom and the edges, my mother continued.
Then she showed me how I should have attacked my so-called study companion, the big pillow with her arms that she had insisted on buying for my room at Price Cruncher in Crampton. The woman at the house had smiled at us when we managed to get her on the conveyor belt. Then he said in a barve voice, "Does anyone go to Fenster Academy?".
Fenster Academy is a school with boarding school for snobs, not far from my home in New Jersey, where girls have horses and everyone wears navy uniforms and sings some songs with tight rhymes like "O, Fenster, dear Fenster, we'll never forget this semester". My mother and I, embarrassed, we both nodded that no.
My study companion was enormous, orange, velvet. I detested it in the store and i hated her now, while sitting on my bed at The Wooden Barn with my arms open. I even hated the name "study companion". Everyone knew I couldn't study, even though it's been a year since Reeve died.
It seems it was time to "get to work" or "stick to the schedule" – and since I couldn't do that, then for me it was time to sign up for The Wooden Barn, where the air of Vermont was supposed to be, in combination with some maple syrup , no psychiatric medication, and no sign of the Internet, would heal me. But I'm not curable.
The other thing that makes the name "study companion" terrible is that I don't have any more "companions". Before I met Reeve and wanted to be with him all the time, my closest friends in Crampton were two other nice, quiet girls with straight and long hair – girls like me. We used to study a lot at school, but we weren't nerdy and we smoked some weed, but without being drugged. In general, we were considered all three cute, pleasant and somewhat shy.
No one despised us, but on the other hand no one thought of us very often. We were the kind of girls who braided each other's hair when we were younger, practiced synchronised dance moves and slept at each other's house every weekend. When we stayed that together overnight, we talked very openly about a bunch of topics, including boys, of course, even though of us only Hannah Petroski had a real, long-term relationship with a guy named Ryan Brown. They were very serious and almost had sex.
– We're a millimeter away from actually doing it, Hannah revealed it to us one weekend.
And even though I didn't know very well what that meant, I nodded and pretended to know. Hannah and Ryan were in love since Mrs. Delahunt's kindergarten. They had first kissed on a piece of carpet in sleepy Corner.
After i lost Reeve, my friends visited me a lot, solemnly presentthemselus at our house. I could hear them from my room while they were sitting in the lobby talking to my parents. "Hello, Mrs. Gallahue," one of them said. "Is Jam better? Not? No? Ah, I don't even know what to say. Well, I made him some cookies…"
But when they knocked on the door of my room, I didn't want to talk to them too long.
– I'd really like you to get over it once, Hannah finally said one day, sitting on the edge of my bed. You haven't even known yourself for a very long time. What was it, a month?
– Forty-one days, I corrected it.
– Well, I know it's hard for you, she told me. I mean, Ryan is my life, so it's not like I can't understand.
He then added, letting his words lose:
– But still…
– But still what, Hannah?
– I don't know, she said.
Then he added, in an unfortunate tone:
– I gotta go, Jam.
If Reeve were there, I would have said, "Doesn't it piss you off like people say 'But still points points' and somehow let his voice go out, as if he had really finished the sentence? But still, it doesn't mean anything, does it? It just means you can't explain how you feel." "Yes, I can't stand that," Reeve would have said. "People who say 'But still' have Satan in them."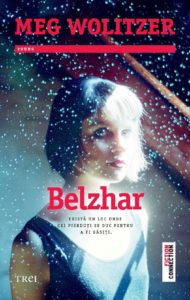 ---
Belzhar's book can be purchased from: