Quote of the Day – 31 August 2017: Narnia – Vol 6 – Silver Jilţ – C. S. Lewis
This was also why on that dreary autumn day, Jill Pole was crying on the steep climb next to the bushes behind the gym. And as she kept complaining like that, she was troubled, around the corner of the building, she showed up whistling a boy with her hands in her pockets. Little was missing from bumping into her.
 – Why don't you keep your eyes where you're going? said Jill Pole.
 – Okay, well, the boy said, but it doesn't stop now and then, seeing what he looked like: Hey, Pole, what happened to you?
Jill was just making a face; as you make a difference when you try to say something, but you know that if you talk, you're crying again.
 – They also, I suppose – as usual, said the boy, angry, putting his hands in his pockets even deeper.
Jill nodd. He didn't have to say anything, even if he could. They both knew all too well.
 – Look, the boy's starting, there's no point like all of us…
He was well-intentioned, but he was effectively talking like a man who's preparing to give someone a perdaf. Jill only jumped (which can easily happen to you when someone interrupted you from crying).
 – Oh, get out of here and mind your own business, cut her off. Why are you sticking your nose where your pot doesn't belong, anyway? You're being smart and you think you can tell us what we should do! Well, in your mind, we should probably always be gushing around those, getting under their skin and serving in front of them, just like you.
 – Oh, my God, i'm so sorry. exclaims the boy, sitting on the grass near the bushes, but rising only because the grass was soaking wet. Unfortunately, his name was Eustace Scrubb, but he was not evil in the heart.
 – Pole, what are you doing here? he said. You think that's fair? Did you see me do that this this quarter? Do you forget I stood up to Carter in the rabbit story? And that I kept the spivvins secret – even in the cases of torture? Forget that…
 – I don't know, and I don't care, Jill thickes through the sighs.
Scrubb noticed that Jill had not recovered and, with a lot of common sense, was thinking of offering her a mint. And he'd get one too. Soon, Jill began to see things a little clearer.
 – I'm sorry, Scrubb, she said, right away. I wasn't fair to you. You didn't do all that stuff this quarter.
 – Well, wipe the last quarter clean, if you can, eustace called him. I was different back then. I was– well, damn it – a lichea, that's what I was!
 – Quite frankly, that's kind of right, you know, she called her Jill.
 – Does that mean you've noticed I've changed? Eustace asked her.
 – And not just me, you know, confirms Jill. Everybody says that. Even those noticed. Eleanor Blakiston heard Adela Pennyfather talk about it in the locker room yesterday. He said, "I don't know who got his hands on that kid, Scrubb. They don't give up this quarter at all. We'll have to deal with him right away."
Eustace shudders in horror. Everyone at the Experimental School knew what it was like to "take care of" you.
They both would be quiet for a moment. Small splashes were danded from the leander leaves.
 – Why were you different last quarter? Jill's asking him now.
 – I happened on vacation a lot of strange things, eustace replied, mysteriously.
 – What kind of things? Jill's interested.
Eustace didn't say anything for a long time. Then he said:
 – Look, Pole, we both hate this place more than anything in the world. Am I or am I wrong?
 – Well, you're not right! Jill replied.
 – Then I actually think I can trust you.
 – Well, don't say it, good for you! You slam it, Jill.
 – yes, but it's an actually amazing secret. Well, Pole, do you really think things are just like I say? I'm talking about some things that others here would mock.
 – I haven't been put in such situations, but I think so, Jill replied.
 – Would you believe me if I told you that on vacation, we were in a different world – other than this world of ours?
 – I don't understand what you mean.
 – Okay, then we're going to stop worrying about this world thing. What if I told you that I've been to a place where animals can talk and where there are – uh – spells and dragons – and – finally, all that things you hear about in fairy tales?
Scrubb was feeling very embarrassed saying all this, which is why he turned red in his face.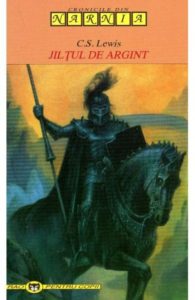 ---
The Book of Narnia – Vol. 6 – Silver Jilt can be purchased from: