Quote of the Day – September 5, 2017: Magonia – Maria Dahvana Headley
People don't usually ask me anything after that. Most of them are just polite. My parents, my family, not necessarily, but others? The substitute teacher who wonders that I'm coughing and having to get out of class – and then go to the medical office – and then make a small 911 call to call an ambulance to drag me back to my familiar territory With white linoleum?
People like that don't want to remind me of things they no doubt already know. Which i know really well. Don't be a fool. And no one thinks I'm stupid.
I'm not like little ladies. Beth and her lovable, invalid Beth-oşenie have always made me nauseous. How people thought she wasn't dying. How she died with ostentation. In stories like that, when someone gets to wrap you in blankets and you happen to smile at them, you're dead.
So I struggle not to smile poorly, even if I feel weak, which sometimes I am, secretly or not. I don't want to become a catastrophic invalidate in the blanket.
Bang, bang, you're dead. Close your eyes and go to sleep.
Footnote: Invalid. Who invented that word to mean invalid? He was a son of a.
So, yes, the matter of death appears in my presence on a regular basis. Adults don't like to talk about it. Now, seriously, don't imagine that I like to talk about it. But people my age are talking.
Death death death, so they think, as if we were all in the car and passed slowly by deadly accidents all day. They're horribly fascinated.
Some of us, those who really die, may not be as fascinated as the others. Some of us may prefer not to be forced to stay in a room where people talk about funeral stuff with celebrities all the time, which you want: overdoses, car accidents, mysterious deaths…
People my age like to cry and agitate dramatically, how people so young can die. He's telling you someone who knows. Tells you someone who was for years that girl That I knew very well and who tragically died one day.
Not that I'm already dead. That's why all this artistic morbidity, goth, is a mess.
Adults don't like to talk about death as people my age. Death is Santa Claus in the adult world. It's just a Santa Claus inside out. The guy who takes all the presents. With a large bag on his shoulder, he climbs the chimney with all the stuff in a man's life and takes off from the roof with his eight reindeer. with sleigh loaded with memories and glasses of wine and glasters and saucepans and t-shirts and cheese sandwiches on the grill and Kleenex and sms and horrible plants in pots and pestriţă cat fur and half-eaten lipsticks and laundry that did not end up being washed and written or you've struggled to conceive, but you've never sent them birth certificates and broken necklaces and good socks to throw away and thinned by so many visits to the hospital.
And papers glued to the fridge.
And the pictures of the boys you fell in love with.
And a dress you once dressed at a party where you danced alone, before you became too skinny and breathless to dance.
And perhaps, although it's not worth thinking about it extraordinarily, and a soul or something.
Anyway, adults don't believe in Santa Claus. They struggle not to believe in Santa's reverse.
At school, this whole situation with the rare-imminent-fatal disease makes me a curious freak. In the real world, it makes me a problem. Worried expressions, bang, nervous faces, bang: "Maybe you should talk to someone about your feelings, Aza," plus annoying garnish of what-to-say-god-what-say-by-therapy-what-say-by-antidepressants?
Sometimes it also appears what-of-the-healing-what-about-herbal-medicinal-what-de-crystal-de————-yoga-? You tried yoga, Aza, you really tried, because a friend of a friend of mine, who was dying, never died because he sat in the dog's position.
No, I didn't try to cure the yoga thing, because yoga can't cure this thing. The thing I have is a Mister, not just a mystery, a true Bermuda Triangle.
Unknown. Unsolvable.
Every morning I take medicine with my fist, although no one knows very well what my problem is. That's rare. (As?)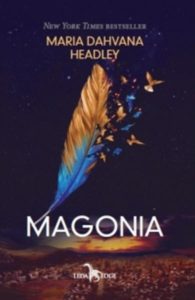 ---
The Magonia book can be purchased from: