Quote of the Day – 8 September 2017: Three weeks in Thezi – Marius Chivu
Raspberries and levatics
I took my equipment out of the locker, vented the sleeping bag, cleaned the big backpack and boots, the same Lowa boots, put batteries in the front flashlight and did the inventory of what I had, but most of all, what I was missing. A pair of pants couldn't fit me anymore, I needed a small backpack (the other had stolen it in the bus station in Piteşti), I needed some new blouses and stockings, the medicines in the first aid kit had expired… I eventually went back to the Himalayas, but in David Neacşu's equipment store, where man gave me and M., everything we needed: "clothes carefully created towards the environment, without banned substances, with low energy consumption" , eco-friendly stockings, Icebreaker panties® on the label that albert einstein was quoted in three languages: "Look deep into nature and you will understand everything better!". David Neacşu also gave us some contacts from Peru, whose map drew it from memory in front of us on a sheet of paper, to better explain the route we chose, to which, of course, came up with some suggestions.
And that was it. All preparations took almost two months and we chose, not out of superstition, to leave in May. I knew little about Peru: writers Vargas Llosa, Vallejo and Echenique, Andes, Incaand and Machu Picchu, Titicaca, Nazca, Amazon. A few nights of surfing on the Internet helped me decide on interesting and, as far as possible, less touristic sites. First machu picchu, for whom i chose the longest and most difficult route: not Salcantay or Inca Trail, of which the Internet was full; but the more bypassed road through Choquequirao, which everyone said was unattractive to mass tourism. Secondly, but perhaps most importantly: Nevado Mismi (5597 m), the mountain where the spring of the Amazon is located. Other places on our route: the Sacred Valley and Colca Canyon (3517 m, second deepthroat in the world, twice and a little deeper than the Grand Canyon in Colorado) and, because we wanted to relax, possibly taking surfing lessons after the three weeks andines , the Pacific coast, in the north, near the Ecuadorian border.
Like last time, I left my cell phone at home. Another important decision that we made with M. (in fact, I just consented) was to avoid travel agencies and leave on our own, and we could manage ourselves, negotiate and improvise on the ground. We may very well have contacted online one of the hundreds of agencies to organise each of our routes with everything they entail (bus tickets, accommodation, food, permits, guides), but we knew that once we arrived in Lima, the costs would be lower than on Internet (where you find prices like for foreigners – gringos), and at Cuzco we will still pay even closer to the real cost. It wasn't about cheapness, but we both knew (because M. had also climbed the Himalayas) what it was like to pay the agency a sum of money from which the sherpas would receive only the tenth. We prefer to give the money directly to the locals, not to the middlemen behind an air-conditioned office. Since M. speaks perfect Spanish, so we don't risk being treated like gringos, we thought it couldn't be that hard to follow the route set at home on the mountains without having anything secured in advance. "Don't you want adventure?!", said M. I wanted, how could I not want to!
My parents only told my parents I was going to South America for a month: "I'm going to go write another book." "In what country?", my father asked me. "Peru," I said. "Give us a sign when you get there."
The morning i left Bucharest it was raining and the city was making an extended siesta, recovering hard after easter days, which had fallen on May 1st. The last song I heard on the radio before I left the house was "Raspberry Beret", a song about Prince's first sexual experience, which had long since died. Incidentally, this was also the song with which, as a kid, I had discovered little Prince, watching the video on MTV. A song about beginnings – I took it as an auspicious sign.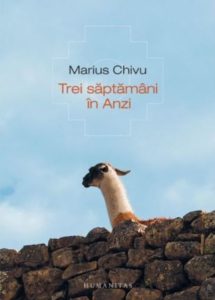 ---
Book Three Weeks in the Andes can be purchased from: