Quote of the Day – 9 August 2017: Aviatorul – Yevgeny Vodolazkin
I said, when it's cold, put your hat on, or it freezes your ears. Look how many passers-by are earless, I told him. She agreed, well, yes-yes, should, but she didn't. He laughed at the joke, and still without a hat it worked. A picture of this kind appears in my head, though, who it is, I can't tell.
Or, say, I remembered a scandal – ugly, exhausting. I have no idea where it happened. I'm afraid the discussion started well, I can say, quite benevolently, but then, word of mouth, he ran into a fight. The important thing is that after that I marveled: why, for what?
Someone noticed that this happens sometimes at parastases: about an hour and a half say what a good man was the late. After that, one of the newcomers remembers that, in fact, the only good late was not. And then, as custom, more people begin to express their opinion, to complete – and, started with the fog, it comes to the conclusion that, on top of that, he was an unmatched villain.
Or even something really wacky: a man gets banged on his head with a piece of salami, and the man rolls down, rolls over and can't stop, and, rolling, his head revolves…
My head. It's spinning. I'm lying in bed.
Where are they?
Steps.
A stranger broke into a white robe. He stood up and, with a finger on his lips, looked at me (the door is ajar and you can see someone's head). I, for my part, looked at him – allegedly, without seeing it. Under the not very tight eyelashes. He noticed they were shaking.
 – Are you up yet?
I opened my eyes. Approaching my bed, the unknown extended his hand:
 – Geiger, what are you talking about? Your doctor.
I pulled my right hand out from under the blanket, and I felt Geiger squeeze it carefully. Just like you touch something when you're afraid of breaking it. He turned his head around for a moment, and the door closed silently. Without leaving my hand, Geiger leaned over to me:
 – And you're Innokenti Petrovich Platonov, aren't you?
I couldn't confirm it. If that's what he says, it means he has a basis. Innokenti Petrovich… I quietly hid my hand under the blanket.
 – You don't remember anything? Geiger asked.
I shook my head. Innokenti Petrovich Platonov. Respectable. Maybe slightly livresc.
 – Do you remember how I just approached the bed? What did I say my name was?
Why is he treating me like that? Or am I that bad? After I pause, I say with a creaking voice.
 – I remember that.
 – What about before that?
I felt like tears were easing me. They squeath, and I started crying.
Geiger took a napkin from the table next to the bed and wiped my face.
 – Well, what's the deal with you, Innokenti Petrovich? There are so few events in the world that deserve to remember, and you bitter.
 – Will my memory come back?
 – I'm putting all my hopes on. You're a case that you can't say anything certain. He put the thermometer on me. You know what, remember as much as possible, this is where your effort is important. You have to remember everything yourself.
I see the hair in Geiger's nose. The scratches that were left on his chin from shaving.
He's looking at me quietly. High forehead, straight nose, pince-nez – it's like someone drew it. There are such typical figures, they look plaited.
 – Did I have an accident?
 – You can say so.
Through the eye of the open window, the air in the salon mixes with the winter air outside. It makes it cloudy, trembles, melts, and the vertical stripe of the frame becomes one with the trunk of a tree, and the sun sets early – somewhere I've seen this before. And flying snowflakes I saw. Melting before they get to the ledge… Where?
 – I don't remember anything. Just some things of no importance – snowflakes in the hospital oberliht, cold glass when you touch your forehead. Events I don't remember.
 – I could, of course, remind you of some of what happened, but life in its entireworld there's no way I can play it in detail. I only know what was on the outside of your life: where you lived, who you dealt with. But I don't know the history of your thoughts, your sensations, you understand? He took the thermometer off my armpit: 38.5. That's a lot.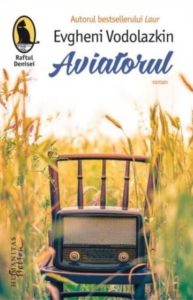 ---
The Book aviator can be purchased from: