Quote of the Day – September 9, 2017: Humiliation – Philip Roth
His question almost made Pegeen give him tears.
 – He told them about you. He told them I was living with you.
 – And what did they have to say about it?
 – Mom answered the phone. He was asleep.
 – And how did he get the news?
 – He asked me if it was true. I told him I wasn't living with you. I told him we ended up being close friends.
 – What did your father say?
 – He didn't come to the phone.
 – I don't know.
 – I don't know, i don't know. What a miserable. Why doesn't it stop? she's screaming. An obsessive, possessive, jealous and spiteful bitch!
 – Does it really matter to you that he told your parents?
 – Doesn't it matter to you? Pegeen asked him.
 – Only as much as it upsets you. Otherwise, no, not at all. I think it's even better.
 – What do I tell my dad when I talk to him? she's asking.
 – Pegeen Mike – Tell him what you want to tell him.
 – And assuming he doesn't want to talk to me?
 – I doubt that's going to happen.
 – Assuming he wants to talk to you?
 – In that case- he and I are going to talk," Axler said.
 – How upset do you think he is?
 – Your father is a reasonable and common sense man. Why should he be upset?
 – Ah, what a bitch– she's completely jumped. He's out of his mind.
 – yes, he said, thinking about you is torture for her. But you didn't go out of your mind, neither am I, nor your mother and your father.
 – Then why didn't dad talk to me?
 – If you're so worried, call and ask him. Or maybe you want me to talk to him.
 – No, I'll talk, I'll take care of it myself.
She waited until after they ate to call Lensing and called from her office from behind closed doors. After a quarter of an hour he came out with his phone in his arms and signaled him to come and talk.
Axler's taking the phone.
 – That's it? Hi.
 – Hey, hey, hey, hey, hey, hey, hey I heard you seduced my daughter.
 – We have a relationship, it's true.
 – Well, I can't say I'm not a little surprised.
 – Well, Axler replied bursting into laughter, nor can I say I'm not.
 – When he told me he wanted to pay you a visit, it never occurred to me that something like this was going to happen, he said.
 – yes, I'm glad you don't have a problem with that, Axler replied.
There's a break before so to answer:
 – Pegeen's free to do whatever she wants. He's been done with his childhood a long time ago. Wait, Carol wants to say hello, said So, and then his wife's phone holds over.
 – Well, well, said Carol, who would have imagined that when we were all kids in New York?
 – No one, Axler replied. I wouldn't have imagined that even the day he showed up here.
 – You think my daughter's doing well? Carol asked him.
 – I think so.
 – And what are your plans? Ask Carol.
 – I don't have a plan.
 – Pegeen managed to keep surprising us.
 – It surprised me, too, axler said. And I don't think she's any less surprised either.
 – Well, it looks like she surprised her friend Louise, too.
She doesn't bother to answer that Louise was herself full of surprises. Carol's intention was obviously to be nice and friendly, but he was sure, from the tension of her tone, that this phone was an ordeal and that she and So were just doing, in their own way, what they thought was right, they were doing what was right to make Pegeen c i'm more pleased. They didn't want to get Pegeen back in their forties, like they'd done with her at twenty-three, when she announced she was a lesbian.
In fact, the next Saturday, Charles flew from Michigan to meet and have lunch with Pegeen in New York. Pegeen drove to town that morning and returned at about eight in the evening. He had prepared dinner for both of us, and it wasn't until he finished setting up, everything was interested in how it went.
 – Well, what did he have to say? Ask Axler.
 – You want me to be totally honest? replied Pegeen.
 – Please, he said.
 – All right, let's go. I'll try to remember as accurately as I can. It was like this, third degree benign. Nothing vulgar or selfish on her part. Simply her scathing candor of the Kansas mother.
 – Go ahead.
 – You want to know everything? said Pegeen.
 – Yes, he replied.
 – Well, first of all, at the restaurant, he passed like a boon around my table without recognizing me. I said, "Mom," and she came back and said, "Oh my God, she's my daughter. You look so cute." And I said, "Cute? Why didn't you think I was cute before?". And she said, "You have a new haircut and clothes like I've never seen you wear before."  "More feminine, you mean," I said. "She certainly said. It looks lovely on you, my dear. How long has this story been going on?" I told her and she said, "It's a very nice haircut. It must have cost you quite a lot." "I just wanted to try something new," I said. And she said, "You'd say you're trying something new in a number of things.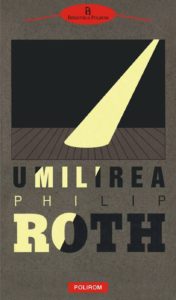 ---
The Book of Humiliation can be purchased from: